The Kennington Bioscope is a regular cinema event featuring live accompaniment to silent films that takes place at the Cinema Museum.
Our `live' screenings resume with a Soviet comedy – yes, there are some! – directed by Boris Barnet, whose also very funny Girl With the Hatbox (1927) was screened at Kennington Bioscope back in the now distant-seeming days of 2016. The House on Trubnaya – known also in English as The House on Trubnaya Street and in the Latin alphabet by the original Russian Dom na Trubnoy – is noted for its avant-garde sets, film-makers' visual gags and humour drawn from situation and character. In this tale of what might be called a Soviet Cinderella, a rural girl hired by a Moscow couple as domestic dogsbody turns out to have political ambitions.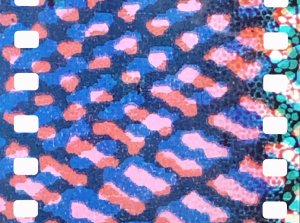 We are delighted to open the evening with the premier of Julia Vogl's short animation Still Dot Moving. Julia is best known for her bold experimentation with colours and shapes and her latest ground breaking work, comprising screen printing directly onto 35mm film, is inspired by the work of artist and filmmaker Len Lye. Read more about the work here and visit Julia's website at www.JULIAVOGL.com.
This will be followed by some films by Alexander Shiryaev. Shiryaev was chief character dancer and Petipa's assistant at the Mariinsky Ballet around the turn of the 20th Century. In 1904 he bought a movie camera and started filming himself and his wife dancing, and then started making stop motion animations of dances, with an extraordinary eye for movement. We will be screening a few of these remarkable films, which were forgotten about until the last twenty years. These will be one film of Shiryaev and his wife dancing, one of his paper animations, and one of his stop motion animations.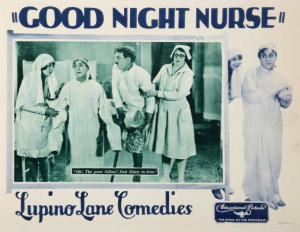 Also in the programme is Good Night Nurse (1929). Directed by Henry W. George. With Lupino Lane, Wallace Lupino, Fay Holderness, Eleanor Frederick and Muriel Evans.
After Buster Keaton, Lupino Lane was the finest acrobatic comedian in the history of film. Now remembered in his native Britain mainly for the stage musical Me and My Girl (with its hit song The Lambeth Walk), here is Lane in a new restoration of one of the many two-reel silent comedies he made in America. Good Night Nurse might almost be called a slapstick ballet, incorporating wonderfully intricate physical comedy between Lupino Lane and his brother, Wallace Lupino.
Accompanists will be Cyrus Gabrysch for The House on Trubnaya Street, Colin Sell for Good Night Nurse, and John Sweeney for the Alexander Shiryaev films and Julia Vogl's Still Dot Moving.
Silent film with intertitles which may be suitable for the deaf and hard of hearing.
Tickets & Pricing
£7. Seats are limited, so please arrive early or request an invitation using the email kenbioscope@gmail.com.