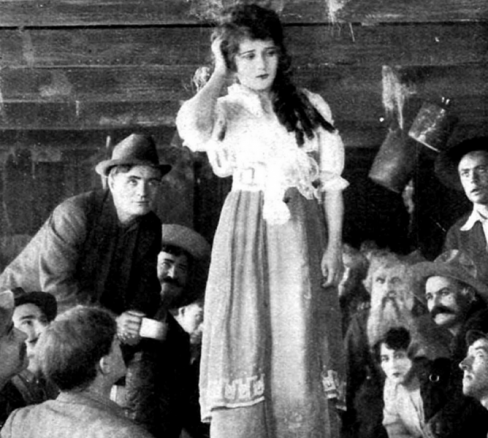 The Kennington Bioscope is a regular cinema event featuring live accompaniment to silent films that takes place at the Cinema Museum.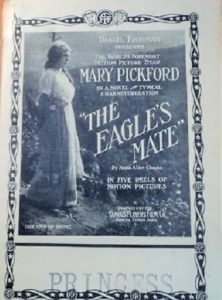 Not a 'prequel' to last month's The Eagle but instead a Mary Pickford vehicle long considered lost until a print was acquired by George Eastman House in 2000. It was produced in 1914 by the Famous Players Film Co. Pickford made seven features in 1914 and this was the first of nine films she made with the director James Kirkwood who also photographed and acted in the film. Other cast members include Jack Pickford and Ida Waterman. The Eagle's Mate was adapted by Marion Michelson from a novel by Anna Alice Chapin. The story is set in Moonshiners' territory with Mary Pickford as Anemone, a girl abducted by a disreputable mountain family and forced into marriage.
In a contemporary review, Variety described Pickford as 'one of the few picture actresses, or actors for that matter, who can interject personality into a negative. She breathes the role taken, and it fits her, up, down and all around … The Eagle's Mate is a lively feature without a real kick – but it has Mary Pickford, better than the best kick or punch that could have been put in …' Kicks and punches were not the issue when a 1918 revival ran into censorship problems in Chicago (and elsewhere) over its violent content; cuts were instead ordered because of shootings and a fight scene in which a man's mouth is torn. The Eagle's Mate is to be screened from a BFI 35mm print.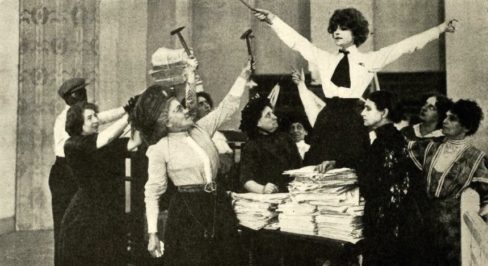 Preceding this in the programme is The Suffragette (1913), directed by Urban Gad and starring Asta Nielsen.
Asta Nielsen was the Danish leading woman of German films who became one of the greatest stars of the silent era. In The Suffragette, which is based on the life of Christabel Pankhurst, Nielsen stars with Max Landa, Charly Berger and Fred Immler.
The film shows the pivotal actions and political convictions of Nelly Panburne – most notably putting a bomb under the chair of the suffragette's opposition, Lord Ascue. Can rebellious actions be dissolved by love in unexpected places?
This is a change of film from that previously advertised. Because The Eskimo Baby (1916) is being screened in an up and coming Asta Nielsen season at the BFI, we have decided to show a different film of hers.
Live piano accompaniment comes courtesy of John Sweeney for The Eagle's Mate and Colin Sell for The Suffragette.
Silent film with intertitles which may be suitable for the deaf and hard of hearing.
Tickets & Pricing
£7. Seats are limited, so please arrive early or request an invitation using the email kenbioscope@gmail.com.
In view of the new variant and the increasing number of infections, we would ask that anyone planning to attend a Kennington Bioscope event who is not double vaxxed does a Lateral Flow Test on the day of the event. We will not be checking this, or people's vaccination status, but will rely on your concern for your fellow audience members' wellbeing. In addition, unless you have a compelling reason to do otherwise, we would request that you wear a face mask while inside The Cinema Museum, apart from when you are eating and drinking. There will be vulnerable people in the building, both audience members and volunteers, and we all need to do what we can to make the event as safe as possible.