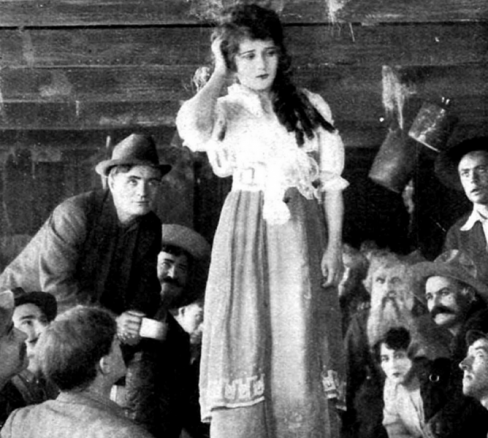 The Kennington Bioscope is a regular cinema event featuring live accompaniment to silent films that takes place at the Cinema Museum.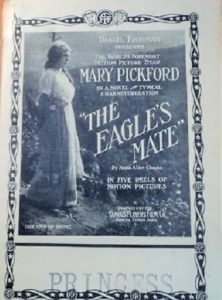 Not a 'prequel' to last month's The Eagle but instead a Mary Pickford vehicle long considered lost until a print was acquired by George Eastman House in 2000. It was produced in 1914 by the Famous Players Film Co. Pickford made seven features in 1914 and this was the first of nine films she made with the director James Kirkwood who also photographed and acted in the film. Other cast members include Jack Pickford and Ida Waterman. The Eagle's Mate was adapted by Marion Michelson from a novel by Anna Alice Chapin. The story is set in Moonshiners' territory with Mary Pickford as Anemone, a girl abducted by a disreputable mountain family and forced into marriage.
In a contemporary review, Variety described Pickford as 'one of the few picture actresses, or actors for that matter, who can interject personality into a negative. She breathes the role taken, and it fits her, up, down and all around … The Eagle's Mate is a lively feature without a real kick – but it has Mary Pickford, better than the best kick or punch that could have been put in …' Kicks and punches were not the issue when a 1918 revival ran into censorship problems in Chicago (and elsewhere) over its violent content; cuts were instead ordered because of shootings and a fight scene in which a man's mouth is torn. The Eagle's Mate is to be screened from a BFI 35mm print.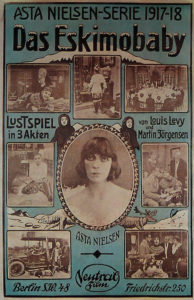 Preceding this in the programme is The Eskimo Baby (1916), directed by Heinz Schall and starring Asta Nielsen.
Asta Nielsen was the Danish leading woman of German films who became one of the greatest stars of the silent era. In Heinz Schall's Das Eskimobaby (The Eskimo Baby), filmed in 1916, though not premiered till the spring of 1918, Asta Nielsen can be seen in a "trousers" role. She break with the conventions of fashion, based not on the expectations and stereotypes of gender roles, but on differences of culture.
Asta Nielsen is Ivigtut, an Eskimo female brought back to Berlin by an explorer from an expedition to Greenland. Ivigtut is an attraction, but she may not appear at an evening party, because her fur pants are socially unacceptable. In her childishly naive dealings with the accomplishments of modern industrial society, Asta Nielsen pulls out all the stops. The Kinematograph wrote in 1918: "Nielsen's acting is overwhelmingly comic, every scene appears thoroughly thought out, the exploitation of each type of situation is the best example of the mastery of all the opportunities afforded by screen acting."
All of the show will have live piano accompaniment.
Silent film with intertitles which may be suitable for the deaf and hard of hearing.
Tickets & Pricing
£7. Seats are limited, so please arrive early or request an invitation using the email kenbioscope@gmail.com.