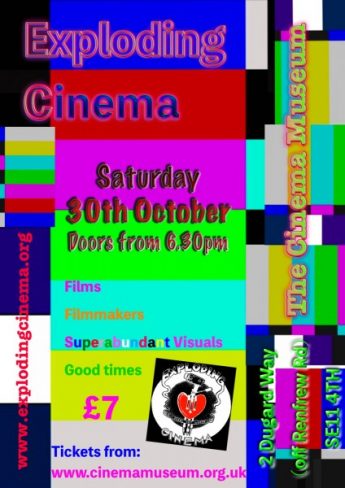 Now in its 30th year, Exploding Cinema is a finally returning to The Cinema Museum, starting with this reunion humdinger.
BACK is the roster of independent short films, BACK are the live filmmakers in attendance, BACK is the ever-popular Raffle, the psychedelic projections, the live music and the combined strangeness of open access and barely-organised movie tomfoolery. All within The Cinema Museum's world class award winning collection of movie ephemera.
Book your ticket early to guarantee entry. Last show we had to turn people away and then COVID happened, so be ready this time.
Doors open at 18.30 for a 19.30 start.
Refreshments will be available in our licensed cafe/bar.
TICKETS & PRICING
Tickets £7 on the door.
Advance tickets may be purchased from Ticketlab, or direct from the Museum by calling 020 7840 2200 in office hours.