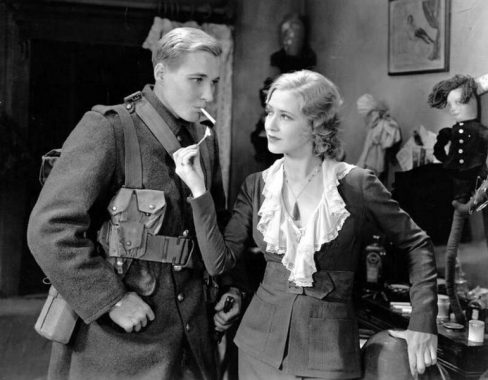 The Vito Project have been celebrating gay British director James Whale with a number of exclusive screenings throughout the month, and now, together with Women & Cocaine we bring you his pre code classic Waterloo Bridge (1931), starring the magnificent Mae Clarke and Douglass Montgomery.
While the life of openly gay Whale has since been documented in biographies and fictionalised in works such as Gods and Monsters (1998), he received limited serious consideration as an auteur during his lifetime in spite of the commercial success of his movies and their indelible influence on the art form. Come join us we celebrate the work of this formidable man.
Clarke stars as Myra, an American chorus girl unable to find work in London at the height of World War I, she resorts to prostitution to support herself. She meets her clients on Waterloo Bridge, the primary entry point into the city for soldiers on military leave. During an air raid, she meets fellow American Roy Cronin, a member of the Canadian Army. Distracted from her original plans by an air raid, she makes no attempt to solicit Roy, and he remains naively unaware of her profession, but for how long?
Come join us in this beautifully historic Grade II listed venue for an introduction, then screening of the film and exclusive raffle!
Follow @womenandcocaine on Instagram and Facebook.
Doors open at 18.30, for a 19.30 start.
Refreshments will be available in our licensed cafe/bar.
TICKETS & PRICING
Reserved tickets £9.97 available from Eventbrite. Tickets will also be available on the door on the night. Concessions available on the door with valid ID. Phone bookings for this event cannot be made via the Cinema Museum.
PLEASE NOTE this screening will now be digital and not 35mm film.