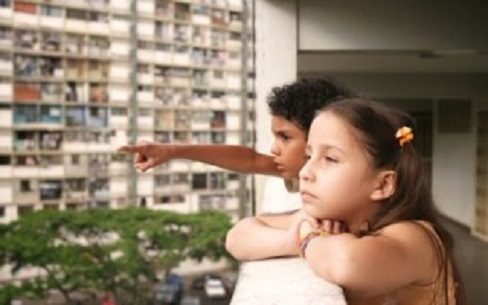 ReShape and the Cinema Museum are proud to present the 2020 season of The VITO Project, a series of monthly screenings of queer cinema, bringing generations of LGBT+ people and friends together for an alternative space to mix, watch great films and share ideas.
"Pelo Malo" means "bad hair" in Spanish. It's a term that is commonly used in Latin America, and it's also the title of this Venezuelan film that tackles racism and homophobia from the point of view of a poor, 9-year old boy, worried about his hair.
Junior is a 9-year-old living in a poor neighbourhood in Caracas. School is about to start, and he has to have his picture taken. Junior becomes obsessed with straightening his curly hair, trying everything from blow-drying to applying gobs of mayonnaise. That last attempt is the last straw for his mother, a struggling widow; she threatens to just cut all his hair off, taking Junior's obsession with grooming as a sign of homosexuality.
The friction between mother and son intensifies as she realises Junior is becoming increasingly obsessed with the Venezuelan beauty pageants on TV and their flair for high camp, not to mention that he seems to spend a lot of time with a girl from the neighbourhood apartment whose main pastime is playing with dolls and role playing the beauty contests on TV.
Pelo Malo is a rare look into identity politics among Latin Americans, where racism, sexuality and gender roles are often a taboo topic. Director Mariana Rondón says the initial goal of the movie was to talk about identity. "Who we are, how we see ourselves. I felt like at the time Venezuela was in this moment in which it was essential that we start respecting each other's differences."
This is a rare opportunity to watch one of the most daring films to come out of Venezuela on the big screen – a sensitive examination of childhood, race and gender roles.
Watch film trailer
Film running time: 1h 33min. Digital presentation.
Venue accessibility: The Cinema Museum is level access. There is a lift, and an accessible toilet large enough for a motorised wheelchair, with an easy lock and handrails. Some of the interior doors are heavy. There is parking available at the Cinema Museum. The building does not have a hearing loop. Please send us a message if you have any questions about accessibility.
Doors open at 17.30, for a 18.30 start.
Refreshments will be available in our licensed cafe/bar.
TICKETS & PRICING
Tickets £6.
Advance tickets may be purchased from Ticketlab, or direct from the Museum by calling 020 7840 2200 in office hours.