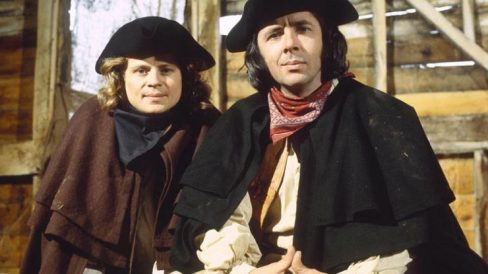 In 1981, after two successful series, the creators of the TV series Dick Turpin teamed up with US producers RKO to make a full length feature entitled Dick Turpin's Greatest Adventure, which was shown in US cinemas. It was later screened on British television as a five-part series.
Dick Turpin's Greatest Adventure moved some of the action to pre-Independence America. Young American Jane Harding (Mary Crosby) of the Providence of Maryland travels to England with evidence to discredit the tyrannical Governor Appleyard (Wilfred Hyde-White). Meanwhile, Dick Turpin (Richard O'Sullivan) is having an affair with Lady Melford (Susan Hampshire) and almost gets caught in her bedroom by her husband, the lord (Patrick Macnee). Their paths inevitably cross…
Also appearing in one of her last roles is Diana Dors.
This screening acts as a curtain raiser to our Dick Turpin The Reunion event at 19.30. Separate tickets available here.
Doors open at 16.00, for a 16.30 start.
Refreshments will be available in our licenced cafe/bar.
TICKETS & PRICING
Tickets £5.
Advance tickets may be purchased from Ticketlab, or direct from the Museum by calling 020 7840 2200 in office hours.