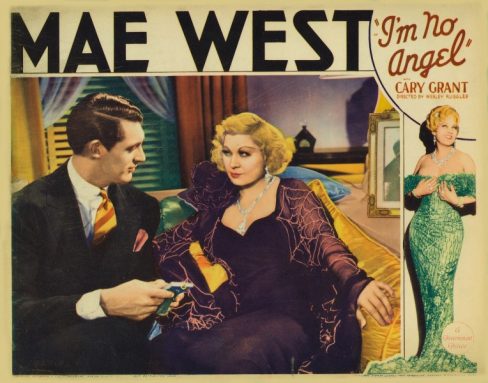 This month we celebrate the most scandalous woman of all time, she was an actress, playwright, screenwriter, and sex symbol, famous for her bawdy double entendres. The month of May belongs to Mae West as we screen her classic I'm No Angel from 1933.
West plays the sharp, seductive and emotionally guarded Tira, a lauded and much-adored circus performer. Her newest suitor, a married New York City socialite named Kirk, showers her with gifts. Kirk's cousin, Jack Clayton (Cary Grant), goes to Tira to try and convince her to end the affair. The two of course fall for one another, but when love and happiness risk taking Tira from the stage, her boss plots to break off the engagement and shackle her to the circus forever.
"I wrote the story myself. It's about a girl who lost her reputation and never missed it" – Mae West on her plot for I'm No Angel.
Women & Cocaine Presents is a new film night at the Cinema Museum to celebrate the fierce and liberated women of Pre-Code cinema. From the period of 1930 to 1934, before the introduction of censorship (known as the Hays Code), women were depicted in roles with a frankness and sex-positivity that remains rare even today. These newly independent women pushed gender boundaries as they pursued their own economic freedom and excitement, defying the previous Victorian ideals of domesticity, sexual purity and religion. Hollywood soon caught on and began to represent these women on screen.
"My father warned me about men & booze, but he never mentioned a word about women & cocaine" – Tallulah Bankhead.
Follow Women & Cocaine on Instagram and Facebook.
Doors open at 18.30, for a 19.30 start.
Refreshments will be available in our licensed cafe/bar.
TICKETS & PRICING
Reserved tickets £10.02 available from Eventbrite. Tickets will also be available on the door on the night. Concessions available on the door with valid ID. Phone bookings for this event cannot be made via the Cinema Museum.