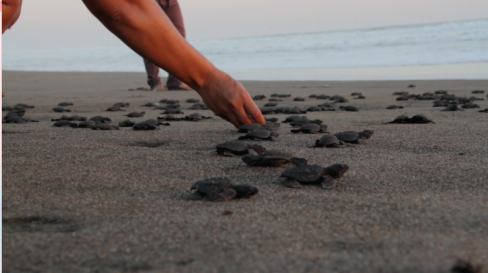 Six short films which show the interface between humans and nature, in some cases benign, in others destructive.
Treasures from the Tides. Director: Catherine Brookes. In El Salvador, a small coastal community fights to protect the sea turtles from poachers. A dedicated all-female team provides hope, but will their unique conservation initiative succeed? 15 minutes.
On the Brink – the Purple Frog. Director: Akanksha Sood Singh. In 2003, scientists discovered the Purple Frog, an enigmatic species that is endemic to India. Living underground for most of the year, it emerges to breed only when the monsoon arrives. So how can a creature so small explain 130 million years of evolution? 23 minutes.
By the Water. Director: Kaelyn S Maehara. The fishing village of Baguran Jalpai in north-east India is one of many similar fighting for their very existence. India's draft legislation will open India's entire coastline to industry and development, leaving the 170 million people who live mostly by traditional fishing means, out of options. 12 minutes.
Downstream: Mining impacts. Director: Jeremy Williams. Along British Columbia's Fraser River, its most important salmon watershed, massive dams are holding back mine waste mixed with water. Some mines are even permitted to release effluent directly into waterways. It's time to ban risky tailings ponds and clean up the mining industry. 6 minutes.
The Sacred Place Where Life Begins. Director: Kristin Gates and Jeremy Là Zelle. While tracking the world's longest land mammal migration through arctic Alaska and Canada, scientists discover an incredible ecosystem protected by the Gwich'in Nation for more than 25,000 years, but now under threat by mining companies. 25 minutes.
Chasing the SNOT of the whales of Samana. Director: Marvin del Cid. 'SnotBot' is a project of Ocean Alliance which uses drones to capture the whales' blows and studying the biological matter it contains. 5 minutes.

Doors open at 18.30, for a 19.30 start.
Refreshments will be available in our licensed cafe/bar.
TICKETS & PRICING
Tickets: £5 and free, available from Eventbrite.