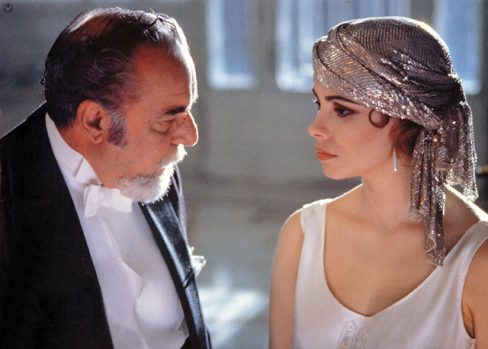 The Cinema Museum are pleased to be hosting a 35mm presentation of Naked Tango (1990). Before the film there will be a variety of clips and discussion on the film and the career of Leonard Schrader with acclaimed journalist and broadcaster Samira Ahmed and film curator and historian The Celluloid Sorceress (Rebecca Nicole Williams). By generous permission of David Weisman, the producer of the film, all proceeds of this screening will go to the #SaveTheCinemaMuseum campaign fund.
Leonard Schrader's single solo directorial film was a troubled production that only received a minor release. Never released on DVD or blu-ray, the long out of print VHS is considered a collector's item. Naked Tango screens here from an archive 35mm print.
Alluding heavily to the Zwi Migdal white slavery and prostitution ring in Buenos Aires of the 1920s, to which Estefania (Mathilda May) returns after stealing the identity of a suicidal woman to escape her elderly husband (Fernando Rey). Anticipating an arranged marriage Estafania finds herself sold into prostitution as a brothel tango dancer caught between her gangster husband (Esai Morales) and the sadistic Cholo (Vincent D'Onofrio) with an obsession for early movies.
Schrader's trademark fascination with cinephilia and South American history are in abundance in a film made under difficult circumstances that never came together in the way the film makers intended. A small success in the erotic thriller canon of the late 1980s, the film also contains the breathtaking cinematography of Juan Ruiz Anchia and the style of co-producer Milena Canonero.
Doors open at 18.30, for a 19.30 start.
Refreshments will be available in our licensed cafe/bar.
TICKETS & PRICING
Donations at the door please, minimum £5, more if you can afford it. There are no pre-sales for this event.