A double bill of trashy cinematic fun inspired by the adventurous programming of London's infamous Scala Cinema Club (1978-1993).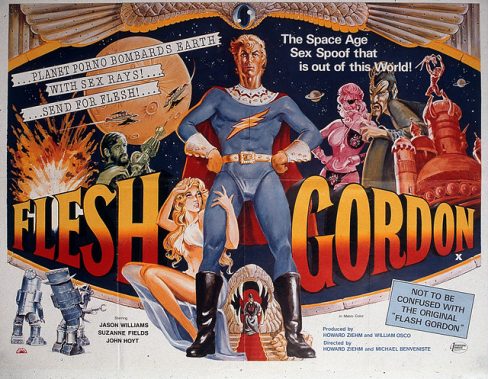 Flesh Gordon (1974), directed by Michael Benveniste and Howard Ziehm, and starring Jason Williams, Suzanne Fields and Joseph Hudgins. A rare chance to see on the big screen this 1970s smutty parody based very loosely on the cinema serial Flash Gordon (1936). Emperor Wang (The Perverted) is leader of the planet Porno, and sends his mighty "Sex Ray" towards Earth, turning Earthlings into sex-mad fiends. Only one man can save the Earth: football player and non-actor Flesh Gordon. Along with his girlfriend Dale Ardent and Professor Flexi-Jerkoff, Flesh sets off towards the source of the Sex Ray, unaware of the perils that face them all!
Please note this is NOT the 1980 Flash Gordon film with the Queen soundtrack. Flesh Gordon enthusiastically blends the banal soft-core porn of the Seventies with the hackneyed film story lines of the Thirties. The sex takes the hackney out of the story, and the story takes the banality out of the sex scenes. Many of the artists who helped create Flesh Gordon would move on to greater things, including Greg Jein, the man responsible for the miniatures, who would go on to do FX work for Star Trek: The Next Generation (1987) and Close Encounters of the Third Kind (1977), and also make-up artist Rick Baker, who would eventually receive an Academy Award for his work on the classic horror flick An American Werewolf in London (1981).
Watch for the surprisingly good Ray Harryhausen-style stop-motion monsters; some lovingly-recreated scenes from the original serials; a generous helping of campy pantomime-style fun; very silly dialogue … oh and lots of gratuitous nudity. This is not a film for prudes!
and also screening: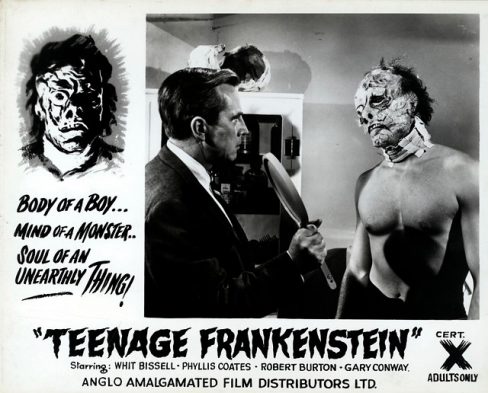 I Was a Teenage Frankenstein (1957), directed by Herbert L. Strock, and starring Whit Bissell, Phyllis Coates and Robert Burton. A drive-in classic from the Fifties, with university lecturer/mad scientist Professor Frankenstein (who happens to have an alligator pit under his house) stealing body parts of dead athletes from the wreckage of a crashed airplane so that he can assemble a hunky male monster with a hideously disfigured face. Of course the monster goes on a killing spree. Shock! or should that read Schlock… "Immensely silly but enjoyable piece of hokum, with a classic title, a serious performance against the odds by Whit Bissell…" Alan Frank, The Horror Film Handbook.
Both films will be screened from original 35mm prints, and there will be a supporting programme of quirky cinematic surprises.
Doors open at 14.00, for a 15.00 start.
Refreshments will be available in our licensed cafe/bar.
TICKETS & PRICING
Admission £12. Advance tickets may be purchased from Billetto, or direct from the Museum by calling 020 7840 2200 in office hours.