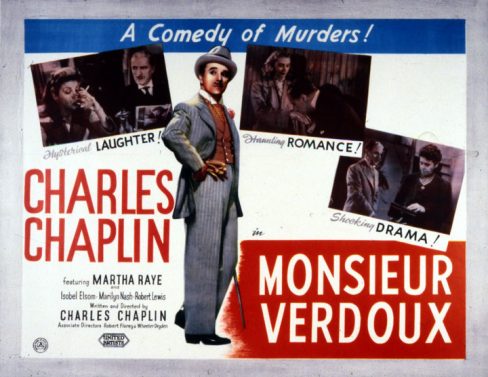 Kennington Noir presents Monsieur Verdoux (1947), directed by Charlie Chaplin, and starring Chaplin, Mady Correll and Alison Roddan.
Monsieur Verdoux is a "bluebeard": he continually marries wealthy widows and then disposes of them after each marriage to get the money he needs for his family. But with two of these ladies, he has bad luck.
Chaplin's first film not featuring his famous Little Tramp character was this black comedy about a serial killer. He bought the idea for the film from Orson Welles, who had been contemplating making a dramatized documentary of the real story of French serial killer Henri Landru, executed in France in 1922. Welles was also supposed to direct Chaplin in the film, until the star backed out at the last moment and took control of the production himself.
Monsieur Verdoux was most successful in Europe, especially in France where half a million people saw the film – a huge number in those days. But in America, with the McCarthy witch hunts then beginning, Monsieur Verdoux was less successful.
Showing as part of Chaplin Month at The Cinema Museum.
The film runs 124 minutes so there will be no supporting programme tonight.
Doors open at 19.00, for a 19.30 start.
Refreshments will be available in our licensed cafe/bar.
TICKETS & PRICING
Tickets £6.
Advance tickets may be purchased from Billetto, or direct from the Museum by calling 020 7840 2200 in office hours.