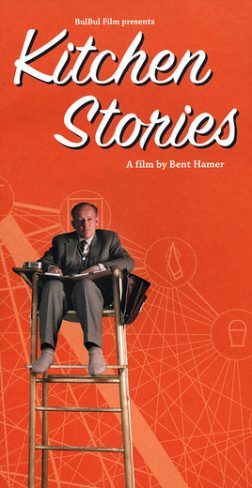 Come and enjoy a selection of Ronald Grant's personal favourite films.
Kitchen Stories is a 2003 Norwegian film directed by Bent Hamer. He discovered some research from post war Sweden stating that an average housewife walks the equivalent number of miles as the distance between Stockholm and Congo, while preparing her family meals. Taking this idea, he created a story where Swedish efficiency researchers come to Norway to study Norwegian men, in an effort to help optimize their use of their kitchens. Folke Nilsson (Tomas Norström) is assigned to study the habits of Isak Bjørvik (Joachim Calmeyer). By the rules of the research institute, Folke has to sit on an umpire's chair in Isak's kitchen and observe him from there, but never talk to him.
Full supporting programme.
Doors open at 13.30, for a 14.30 start.
Refreshments will be available in our licensed cafe/bar.
TICKETS & PRICING
Tickets £6.
Advance tickets may be purchased from Billetto, or direct from the Museum by calling 020 7840 2200 in office hours.