The Kennington Bioscope is a regular cinema event featuring live accompaniment to silent films that takes place at the Cinema Museum.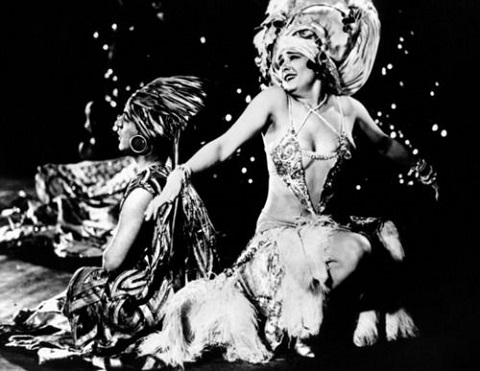 We're pulling out all the stops with our sparkling festive spectacular feature film Moulin Rouge (1928) an acclaimed Anglo-German co-production, made at Elstree and helmed by the renowned German director E.A. Dupont, famed for his other big B.I.P. (British International Pictures) production Piccadilly (1929), silent circuit favourite Variete (1925) and the recently restored and rediscovered Das Alte Gesetz (The Ancient Law) (1923). Art direction was by the brilliant German-born Alfred Junge, who would later collaborate on eight films with Powell & Pressburger, to extremely memorable effect, winning the Oscar for his work on Black Narcissus (1947).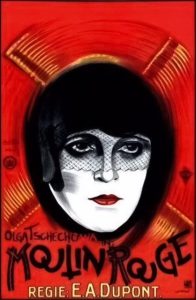 Let the Kennington Bioscope light up your winter nights with a blaze of glamour as the backdrop of the Parisian dance hall sets the scene for a strange and dramatic love triangle… Jean Bradin plays Andre, the young aristocrat in love with Margaret, played by Eve Grey, but as they watch the Moulin Rouge's stage extravaganza together, he falls hard for Parysia, the star of the show, played by Russian-German actress Olga Tschechowa, who just happens to be the younger woman's mother… Dupont rented the famous night resort and the entire cast of its 'Paris-New York Revue' for the production. The full version of the film was released as a silent in 1928 then re-edited and re-released the following year with recorded soundtrack.
"Mlle. Checkova runs the gamut of human emotions in her characterization of the stage beauty who unwillingly fascinates her young daughter's fiancé. The love story climaxes in a motor race… that's a triumph of cinematic art. A rare and stirring entertainment." Exhibitor's World – 26 January 1929
The Kennington Bioscope wishes to extend its most grateful thanks to Julien Allen, who has so generously sponsored this screening of Moulin Rouge.
The full silent film will be shown from a BFI 35mm print and introduced by Michelle Facey. Live improvised piano accompaniment will be provided by Meg Morley. N.B. Due to the length of the film, there will not be a first half of short films.
Silent film with intertitles which may be suitable for the deaf and hard of hearing.
Anyone interested in silent film should visit the website for more info.
Tickets & Pricing
£6. Seats are limited, so please request an invitation using the email kenbioscope@gmail.com.