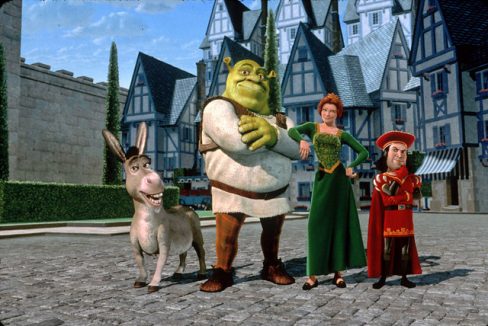 The irreverent and anti-Disney fairy-tale film Shrek (2001) is a landmark of computer-animated cinema. Released a little over 5 years after Pixar Animation Studios' ground-breaking Toy Story (1995) and based loosely on William Steig's 1990 book of the same name, Shrek is the second computer-animated film to be produced by DreamWorks Animation, a company co-founded by ex-Disney Chief Executive Jeffrey Katzenberg in 1994 alongside Steven Spielberg and David Geffen. The film tells the story of a mean-spirited green ogre who brokers a deal with corrupt Lord Farquaad to rid his swamp of fairy-tale characters in exchange for the capture of beautiful Princess Fiona, whom Farquaad intends to marry as a way of becoming King of Duloc. Accompanied by a wisecracking Donkey, Shrek rescues Fiona from a castle surrounded by a fire-breathing dragon but in the course of their journey falls hopelessly in love with the princess, who may not be all that she appears herself.
After DreamWorks' computer-animated film debut Antz (1998) drew instant comparisons with rival Pixar and their similar insect-themed narrative in A Bug's Life (1998), Shrek marked a departure from the sentimental and romance of animated fairy-tale adaptation and its particular brand of magic. Rich in anti-Disney sentiment and intertextual pop culture citation, the film parodies a number of familiar sources, plundering cinema history, popular music and fairy-tale storytelling as part of its remixing of cultural references. Within the recent history of Hollywood animation, Shrek also stands as an important moment in the style and form of emergent the computer graphics. It was produced with partners Pacific Data Images (PDI) (a computer animation company bought by DreamWorks SKG in 2000) and represents seismic developments in digital imagery through its convincing rendering of fire, water, leaves, dirt and dust. The film also paved the way for Hollywood A-list talent to become involved in animated voice acting, with Shrek featuring the vocal talents of Mike Myers, Eddie Murphy, Cameron Diaz, and John Lithgow as part of its starry soundscape. Competing against Jimmy Neutron: Boy Genius (2001) and Monsters, Inc. (2001), Shrek was nominated and won the inaugural Best Animated Feature at the 2002 Academy Awards.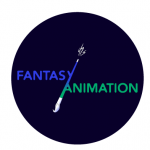 This is the third film in the monthly screening series curated and hosted by Fantasy-Animation.org, a blog and podcast dedicated to the relationship between fantasy cinema and the medium of animation. The screening of Shrek on 35mm will be followed by a live podcast recording and Q&A with Dr. Christopher Holliday, an expert on Hollywood animation and author of The Computer-Animated Film: Industry, Style and Genre (Edinburgh University Press, 2018).
Doors open at 18.30, and the film starts at 19.30. We will be screening SHREK from a 35mm print.
Refreshments will be available in our licensed cafe/bar.
TICKETS & PRICING
Tickets £6.
Advance tickets may be purchased from Ticketlab, or direct from the Museum by calling 020 7840 2200 in office hours.