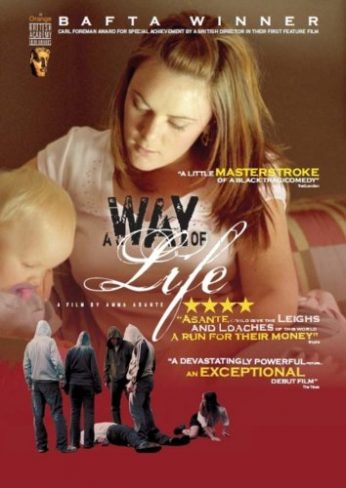 Film Club Celebrates Two Award-Winning Black Female Directors Screen Debut Short and Feature Films.
On Monday 28th October 2019, The First Film Club, will host its second event, a special screening presentation of Amma Asante's debut feature film A Way Of Life (2004) alongside short film, Colour Blind (2017), by Tracy Kiryango, at the Phoenix Cinema (East Finchley, London).
The event will screen both award-winning films, and will be followed by a live Q&A with both directors, Amma Asante and Tracy Kiryango – chaired by journalist and critic, Hanna Ines Flint – where they will have an opportunity to discuss their first films, their individual journeys and careers so far, their inspirations, lessons from film school, their methods and approaches to filmmaking, the struggles and successes associated with the art of movie making, the difference between and the development of directing a short film and a feature film and much more.
Amma Asante's BAFTA award-winning 2005 debut, A Way Of Life, is set in Wales, and follows a single teen mum Leigh-Anne (Stephanie James) as she becomes increasingly paranoid under the constant pressure of both social services and her daughter's paternal grandmother (Brenda Blethyn) threatening to assume guardianship of her child. The award-winning Colour Blind, written, directed and produced by emerging filmmaker, Tracy Kiryango, follows Lyle as he tries to navigate his first interracial relationship with girlfriend, Kahlea. Set in 1982 as racial tensions are amplified by the Brixton riots, Lyle is trying his best to avoid any sensitive topics, fearful that his lack knowledge will ruin their relationship, while Kahlea is trying her hardest to deepen their bond by bridging the gap between their two cultures.
Following the successful inaugural event with legendary British filmmaker Mike Leigh, the newly established First Film Club aims to highlight and celebrate the diverse range of talented filmmakers and bring the film-loving community together, welcoming everyone with a love for film to 'join'; from filmmakers to film fans, students and scholars, writers, critics and everyone in-between can now watch and participate in the discussion about the art of film, they typically would not have access to. This fresh new take on the 'traditional' film club encourages cinephiles to (re)discover the importance of shorts as creative pieces of film, and the importance of the very first feature film as a step in a filmmakers career, as well as giving film-lovers the opportunity to immerse themselves in discussions about craft and creativity with two prominent filmmakers, during the exclusive Q&A post-screening. The First Film Club is a new series of screening events across London, showcasing two directorial debut films; a short film from an exciting, emerging filmmaker, followed by a feature film, as the main presentation, from an established director, followed by a live Q&A with both directors. Guests and members of the audience can also take part in an exclusive Q&A with the directors.
Public tickets for The First Film Club are available now, at https://phoenixcinema.co.uk/PhoenixCinema.dll/WhatsOn?Film=12920646.