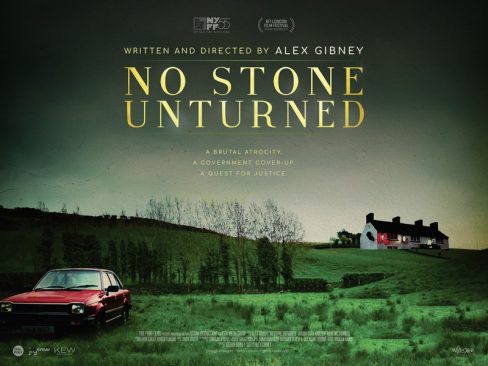 The Amnesty Tower Hamlets group campaigns for human rights around the world. The group invites you to a screening of Alex Gibney's documentary No Stone Unturned (2017). The film investigates the Loughinisland killings of six people as they watched a World Cup match in a pub in 1994 and the lack of justice for families of the victims. With all the political heat around the Northern Ireland backstop, it's a timely reminder of the Troubles that the Good Friday Agreement brought largely to an end.
Two journalists involved in making the documentary, Trevor Birney and Barry McCaffrey, were arrested by police in Northern Ireland in August 2018 and documents and computers seized from their homes and offices. Following a public campaign backing the journalists' challenge to the legality of the raids in the High Court, the police were told to hand back the material. No Stone Unturned was one of the documentary films nominated for an Emmy in September.
"Prolific documentarian Alex Gibney turns his lens on to Northern Ireland, with a typically forensic examination of an unsolved mass murder. The six victims of the 1994 Loughinisland massacre were watching the World Cup in their local pub when a masked gunman burst in and sprayed bullets from a Czech-made automatic weapon. But despite the fact that, as Gibney's research reveals, the police had a clear idea of suspects from the outset, and despite the fact that a getaway vehicle, a gun and a bag full of balaclavas was found, nobody was ever charged. What's more, much of the evidence was later mislaid or destroyed. Scrupulously even-handed, the film explores collusion between police and paramilitaries and the decidedly unstable foundations underpinning the Northern Ireland peace process" (The Guardian).
Doors open at 17.30, and the film starts at 18.30.
Refreshments will be available in our licensed cafe/bar.
TICKETS & PRICING
Tickets cost £10 plus £1 booking fee, and funds raised go to Amnesty International UK, helping us to continue campaigning for human rights.
Advance tickets may be purchased from WeGotTickets.