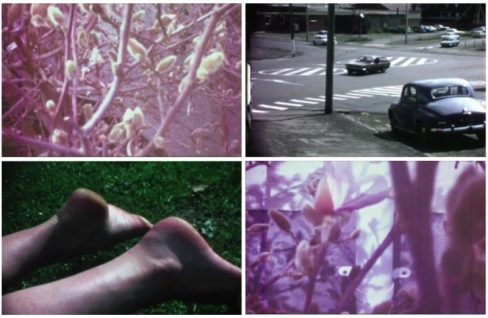 "All my films poems paintings play more or less between inner and outer events." – Joanna Margaret Paul
Filmmaker and curator Peter Todd presents this, the first, programme of 12 films, dedicated to New Zealand poet, painter, and filmmaker Joanna Margaret Paul. Often shot and edited in camera, her films chronicle motherhood and domestic life, the worn traces of urban settlement and the persistent presence of the natural world. Todd's accompanying essay places Joanna Margaret Paul work in the lineage of filmmaker Margaret Tait and painter Frances Hodgkins. This screening follows the programmes presentation at the Glasgow Film Festival 2018 and last year's sold out screening at London's Close-Up cinema.
The films are:
Napkins (1975)
Jillian Dressing (1976)
Task (1982)
Sisterhood (1975)
Seacliff (1975)
Body/House (1975)
Motorway (1971)
Barrys Bay 2 (1975)
Children Imogen (1975)
Aberhart's House (1976)
Port Chalmers Cycle (1972)
Thorndon (1975)
Napkins (1975)
All films have been transferred from 8mm and 16mm film to HD video. Total duration 68 min.
Peter Todd's essay on the work of Joanna Paul can be found here.
Through a Different Lens: Film Work by Joanna Margret Paul was commissioned by CIRCUIT Artist Film and Video Aotearoa New Zealand with the support of Creative New Zealand. With thanks to the estate of Joanna Margaret Paul and the Paul family. Presented in association with Aerial.
Doors open at 19.00, for a 19.30 start. Small cinema.
Refreshments will be available in our licensed cafe/bar.
TICKETS & PRICING
Tickets £10 (concessions £7.50).
Advance tickets may be purchased from Billetto, or direct from the Museum by calling 020 7840 2200 in office hours.