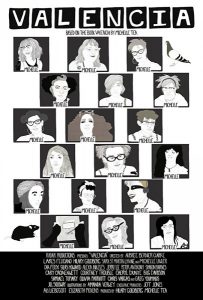 ReShape and the Cinema Museum present the third season of the VITO Project, a series of free monthly screenings bringing generations of LGBTs together to provide an alternative space to mix, watch films and share ideas.
The Vito Project presents Valencia, a 2013 experimental feature collaboration of 18 directors each adapting a chapter of Michelle Tea's award winning queer memoir of the same name.
Valencia is a collaboration between a national community of queer filmmakers to adapt the underground classic memoir into a kaleidoscopic vision of San Francisco's vibrant Mission District in the early 1990s, before the dot-com apocalypse, when the neighborhood functioned as a low-rent playground for a generation of punk lesbians who came of age during the birth of the Queer Nation. Valencia documents the rise of a punk lesbian diaspora through the experience of Michelle, a single rootless twenty-something searching for sex and love, drugs and adventure.
The filmmakers are: Aubree Bernier-Clarke, Lares Feliciano, Clement Hil Goldberg, Sara St Martin Lynne and Michelle Lawler, Dia Felix, Silas Howard, Alexa Inkeles, Jerry Lee, Peter Anthony, Sharon Barnes, Cary Cronenwett, Courtney Trouble, Cheryl Dunye, Bug Davidson, Samuael Topiary, Olivia Parriott, Chris Vargas and Greg Youmans, Jill Soloway. Valencia won the Jury Award For Best Experimental Feature at Polari Film Festival 2013 and the Jury Award For Best Narrative Feature at Chicago Reeling Film Festival 2013.
The screening will be followed by an open discussion with Bonnie Rae Brickman, the film editor and Angela Bryan-Brown, Campaigns Officer at Stonewall.
The project is endorsed by BFI Flare: London LGBT film festival, 56 Dean St, QX Magazine, Gay's the Word, ACT UP London, Gay Mates, a Change of Scene, the Cara Trust, I-Base, UK-CAB, Positively UK, Gaydio, NAZ Project, Frank Byrne & his walkers and Broad Appeal Podcast.
Doors to the cafe/bar will open at 18.00 for a 19.00 screening. Come early to secure a seat as it can get very busy and we do not take bookings. The doors to the Cinema will be shut once capacity is reached.
TICKETS & PRICING
This is a free event but we need your donations on the night to ensure the continuation of the VITO project. All donations go towards covering the costs associated with running the event (film licences, heating and lighting, rental of the premises, printing, promotion etc). Donations are VITO's only source of funding and we need to raise an average of £5 per person just to cover our costs. So PLEASE DIG DEEP and give us a paper donation if you are able to.
Find out more about the VITO Project on their website.