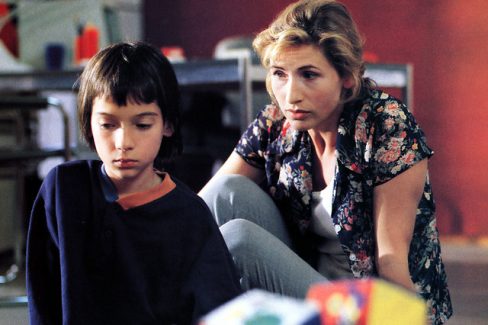 ReShape and the Cinema Museum present the third season of the VITO Project, a series of free monthly screenings bringing generations of LGBTs together to provide an alternative space to mix, watch films and share ideas.
The VITO Project is delighted to screen Ma Vie en Rose, a 1997 Belgian drama film directed by Alain Berliner, starring Georges Du Fresne, Michèle Laroque and Jean-Philippe Écoffey It tells the story of Ludovic, a child who is seen by family and community as a boy, but consistently communicates being a girl. The film depicts Ludovic's family struggling to accept this transgressive gender expression.
"Few films about childhood have the rich resonance and sheer audacity of Ma Vie En Rose, certainly one of the most distinctive and exquisite films of the year. This may not be the first movie to deal with the confusion of one's sexuality, and it won't be the last, but it's the first to do so with as much intelligence, poignancy and honesty as this extraordinary work. Combining allegorical fantasy with pointed realism, the film is more about identity and non-conformism, as it is about a child's emotional and sexual confusion…Ma Vie En Rose is an elaborately textured work, a film that is both visually stylised to represent the perceived fantasy world of Ludovic, yet also deeply human and even dark. Masterfully and sensitively directed by Berliner, this is a truly remarkable film, an intelligent, deeply affecting work that remains an unforgettable and haunting experience."
Paul Fischer
The film was the Winner of the Best Foreign Language Film category at the Golden Globe 1998.
The screening will be followed by an open discussion with two members of the community. Please contact us if you would like to be on the panel.
The project is endorsed by BFI Flare: London LGBT film festival, 56 Dean St, QX Magazine, Gay's the Word, ACT UP London, Gay Mates, a Change of Scene, the Cara Trust, I-Base, UK-CAB, Positively UK, Gaydio, NAZ Project, Frank Byrne & his walkers and Broad Appeal Podcast.
Doors to the cafe/bar will open at 18.00 for a 19.00 screening. Come early to secure a seat as it can get very busy and we do not take bookings. The doors to the Cinema will be shut once capacity is reached.
TICKETS & PRICING
This is a free event but we need your donations on the night to ensure the continuation of the VITO project. All donations go towards covering the costs associated with running the event (film licences, heating and lighting, rental of the premises, printing, promotion etc). Donations are VITO's only source of funding and we need to raise an average of £5 per person just to cover our costs. So PLEASE DIG DEEP and give us a paper donation if you are able to.
Find out more about the VITO Project on their website.