The Misty Moon International Film Festival is back again this Halloween, for another year of fantastic indie films and will be held on Saturday the 27th October at London's 'The Cinema Museum', a venue of significant cultural importance within England's capital city.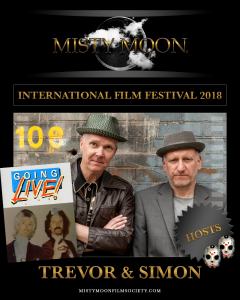 We are looking for short films of all genres to be submitted but as it is near Halloween and our judges are made up of actors and actresses from well know horror films we would appreciate a smattering of short horrors as well.
The evening will be hosted by legendary comedy duo Trevor and Simon, best known for BBC1's Saturday morning alternative comedy shows Going Live! and Live and Kicking.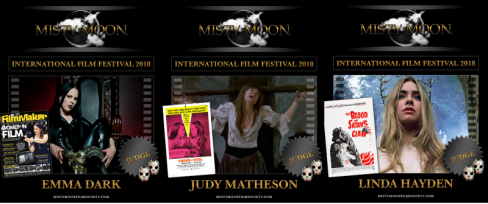 Celebrity judges include:
Linda Hayden – Actor (Taste the Blood of Dracula (1970), Blood On Satan's Claw (1971))
Emma Dark – Director/Actor (Seize the Night (2015), Frankula (2017), Bad Friday (2017))
Judy Matheson – Actor (Twins of Evil (1971), Lust for a Vampire (1971), Crucible of Terror (1971))
Hattie Hayridge – Actor (Red Dwarf (1988-1992))
Debra Lamb – Actor (Beverly Hills Vamp (1989))
Ben Peyton – Actor (The Bill (2000-2002))
Frances Lowe – Actor (December Bride (1991))
Graham Humphreys – Painter of many UK film posters and video covers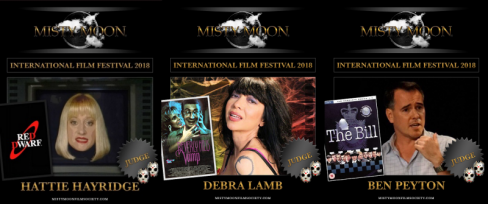 Here is a link to a short promo video recorded by Henry D.C. Williams at the 1st Misty Moon International Film Festival: https://vimeo.com/53084247
The Finalists are:
T.I.M. This Is Me – Director Peter Hepplethwaite & Philip L Moore
People, Places & Things – Director Sue Jackson
Once Bitten – Director Peter Tomkins
RUBBERECK – Director Benjamin Orifici
Knock At The Door – Director Michael Constable
Devoid – Director Matthias Von Braun
Decay II – Director Matthias Von Braun
Switch – Director Matthias Von Braun
Repeat After Me – Director Yu Shibuya
The Not So Bright Vampire – Director Jim Zounis
Vintage Blood – Director Abigail Blackmore
Lunch Ladies – Director J M Logan
There will be four awards, audience winner, judge's winner and two special awards: The Fenella Fielding Award and The Dudley Sutton Award. Each of the winners will receive an engraved trophy.
Each of the finalists will get a chance to meet the judging panel on the night.
To submit a film: https://filmfreeway.com/MistyMoonInternationalFilmFestival
Doors: 6pm
Festival: 7pm
Refreshments will be available in our licensed cafe/bar.
TICKETS & PRICING
Free admission but donations towards the museum are most welcome.