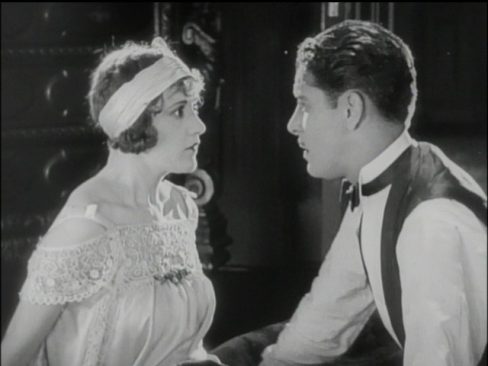 On the 8th and 9th of September the Kennington Bioscope will present its fourth Silent Film Festival at the Cinema Museum. The event is expected to run from 10.00 till 22.15 on both Saturday and Sunday.
The event will feature many rare and fantastic gems from the BFI archive and the personal collection of film historian and national treasure, Kevin Brownlow. As with last year's show, almost the whole programme is on film (35mm or 16mm). Mr Brownlow himself with curators from the Kennington Bioscope will be on hand to introduce the films. We will have the leading silent film pianists in the UK, John Sweeney, Costas Fotopoulos, Cyrus Gabyrusch, Lillian Henley and Meg Morley. The line up below is to be confirmed and subject to alterations.
---
Saturday Programme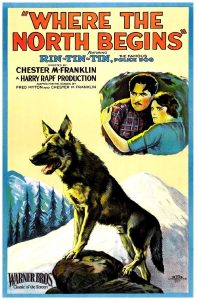 10.00 Programme 1:
Where the North Begins (USA 1923)
Director Chester M. Franklin, with Rin Tin Tin, Claire Adams, Fred Huntley.
This was the third film for up-and-coming canine actor Rin Tin Tin. A German Shepherd dog, who as a puppy was "adopted" by a wolf pack, saves the life of a fur trapper. As a result, he forms a bond with the man that is stronger than the one he has with his adopted pack. Rin-Tin-Tin became a top star thanks to this powerful north-western, his first association with Warner Bros,. said Photoplay; "His canine acting is superb. One photograph of him, outlined against the gray sky, is worth the price of admission." Lewis Milestone as editor interwove two stories, by directors Chester Franklin and Millard Webb. A beautiful tinted Kodascope print.
11.30 Programme 2: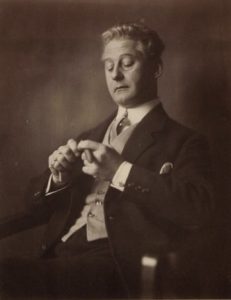 Die Geliebte Tote (When the Dead Are Living Again) (Germany 1919)
Director Erwin Baron, with Paul Biensfeldt, Hans Kuhnert and Gertrud Welcker.
The distinguished German character actor Paul Biensfeldt who plays the lead in Die Geliebte Tote for many years was on the Berlin stage. He made his reputation for comic performances under the direction of Max Reinhardt at the Deutschen Theatre, Berlin. He had prolific film appearances from 1913, but did his best work in silent films directed by Murnau, Lubitsch and Lang.
13.00 LUNCH
14.00 Programme 3:
The Garden of Resurrection (UK 1919)
The special guest speaker for The Garden of Resurrection is Dr Lawrence Napper, author and Senior Lecturer in Film Studies at Kings College London.
Director Arthur Rooke, with Guy Newall, Ivy Duke, Lawford Davidson and Mary Dibley.
In this lurid tale of miscegenation based on the novel by E Temple Thurston the opening title establishes Newall as 'Bellairs, a man obsessed with the idea of his own ugliness' – his only friend a terrier (who gets his own intertitles). He 'rescues' a mixed race girl from a fortune hunter, is outcast because of his looks, she because of 'black' blood. Harwick News and Border Chronicle wrote in 1921 'An adaptation of Temple Thurston's well-known novel, is something more that entertainment. It is a restorative, perhaps a cure. For people who have lost faith in human kindness, who are ready to believe that life is all ugly… We have literally never seen anything more pleasing. The whole film is saturated with kindliness, purity, beauty and charm. We are indeed "made to forget," but we are also made to remember-and think… The producers have caught the spirit of Mr Thurston's novel. They have worked the sentiment and the spiritual beauty therein "to the limit," but they haven't overshot the mark… The Garden of Resurrection will appeal to all sections on the community.'
Film print from the BFI National Archive. With support from the AHRC project 'British Silent Cinema and the Transition to Sound' and of the British Silent Film Festival.
15.50 Programme 4: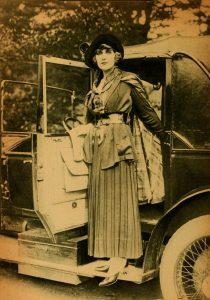 Pearl White: A Cliffhanging Life, presented by Glenn Mitchell and Michael Pointon.
Dubbed the "Queen of the Serials", White is said to have done the majority of her own stunts in several film serials, most notably in The Perils of Pauline. Often cast as a plucky onscreen heroine, White's roles directly contrasted those of the popularized archetypal ingénue.
17.20 Programme 5:
Her Night of Romance (USA 1924)
Director Sidney Franklin, with Constance Talmadge, Ronald Colman and Jean Hersholt.
A wealthy American takes his single daughter Dorothy to England. Fearing she will be photographed and hounded, Dorothy disguises herself to fool the awaiting media frenzy. A brilliant comedy starring Colman and Talmadge – at last her films are being rediscovered and she is being revealed as one of the most delightful comediennes of the entire silent era. The film was a big hit at this year's Slapstick Festival in Bristol.
18.45 DINNER
20.00 Programme 6: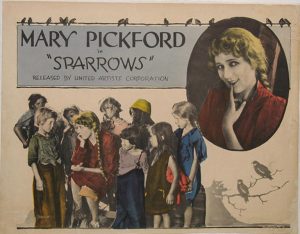 Sparrows (USA 1926)
Director William Beaudine.
Molly (Mary Pickford) is the eldest resident of a prison-like orphanage run by the abusive Mr. Grimes (Gustave von Seyffertitz), his neglectful wife (Charlotte Mineau) and their diabolical son, Ambrose ("Spec" O'Donnell). She struggles to lead a group of young children to freedom through the treacherous swamps that surround the orphanage where they have all been enslaved. The film was produced by Pickford, who was the most powerful woman in Hollywood at the time. This is the most unusual of all Mary Pickford films -it is as close to a horror film as it is to Dickens or Edgar Allan Poe. Originally entitled The Baby Farm, it so impressed F W Murnau that he took the cameramen, Charles Rosher and Karl Struss, to photograph Sunrise (1927). Ernst Lubitsch sent Mary Pickford a telegram describing it as 'one of the eight wonders of the world.' Gustav von Seyffertitz is at his most sinister best.
Details of the Sunday programme here.
The Museum's café and bar will be open throughout the event serving sandwiches, hot pastries, cakes, snacks, alcoholic beverges and hot & cold drinks.
The Jamyang Cafe, adjacent to the Museum, will be offering a delicious meals during the festival. We encourage you to pre-book when you purchase your festival ticket so we can have your food ready to go, then you can spend less time in a queue and more time sitting down enjoying your meal and break.
Pre-booked dinner: £6.50
You can pre book your dinner when you buy your ticket for the event. You will be given a special voucher on the door when you check in for the festival that you can present at the Jamyang Cafe next door.
If you have already bought a ticket for the event and want to pre book a dinner then don't worry. There is no transaction charge for pre booking meals.
Tickets & Pricing
Weekend Ticket £30 / One Day £18 / Morning Pass £10 / Afternoon and evening pass £12 / Evening pass £5. Available from the TicketTailor website.