Robin Askwith interrupts his celebratory one man show tour for this special evening hosted by English writer, journalist and BBC broadcaster Dr. Matthew Sweet.
Sweet has been both a critic and enthusiastic advocate of Askwith's broad span of cinematic work, so this promises to be both an epic and entertaining sparring match!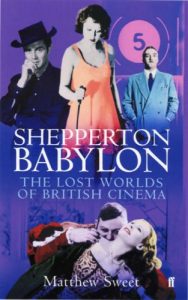 Askwith, of course, is a riddle wrapped in a mystery inside an enigma….. covered in soaps suds and Dr. Sweet's bestselling book, Shepperton Babylon: The Lost Worlds of British Cinema never overlooks the importance of Askwith's work and is a brilliant study of the British Film Industry from silent days to the present.
Don't miss this one chance to see these two get together….. it may never happen again! Tickets are limited, so book now!
Doors open at 19.00, for a 20.00 start.
Refreshments will be available in our licensed cafe/bar.
TICKETS & PRICING
Tickets in advance £14 (£13 concessions). On the door £15 (£14 concessions).
Advance tickets may be purchased from Billetto, or direct from the Museum by calling 020 7840 2200 in office hours.