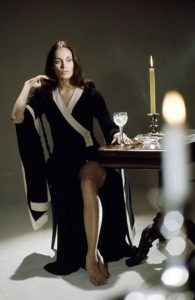 Come and spend an evening with Bond Girl Martine Beswick, being joined on stage by Misty Moon's MC Linda Regan.
Martine Beswick is best known for her two appearances in the James Bond film series. Although she auditioned for the first Bond film Dr. No (1962), she was cast in the second film From Russia with Love (1963) as the fiery gypsy girl, Zora. She engaged in a "catfight" scene with her rival Vida (played by former Miss Israel Aliza Gur). She then appeared as the ill-fated Paula Caplan in Thunderball (1965). She had been away from the Caribbean so long that she was required to sunbathe constantly for two weeks before filming, to look like a local.
Martine went on to appear in One Million Years B.C. (1966) opposite Raquel Welch, with whom she also engaged in a catfight. She then appeared in various Hammer low-budget films, most notably Prehistoric Women aka Slave Girls (1967) and the gender-bending Dr. Jekyll and Sister Hyde (1971), in which she played the titular villainess. She played Adelita in the well-regarded Spaghetti Western, A Bullet for the General (1967) opposite Klaus Kinski and Gian Maria Volontè. She starred as the Queen of Evil in Oliver Stone's 1974 directorial debut Seizure, or Queen of Evil (1974). In the 1970s, Martine moved to Hollywood and regularly appeared on both the big and small screens. She made numerous guest appearances on television series, including Sledge Hammer! (1987), Fantasy Island (1979-84), The Fall Guy (1982), Mannix (1970), The Six Million Dollar Man (1975-6) and Falcon Crest (1985). In 1980, she played the lead role in the comedy film The Happy Hooker Goes Hollywood aka Hollywood Blue.
Martine's career was active well into the 1990s. Since then, she has mainly participated in film documentaries, providing commentary and relating her experiences on the many films in which she has appeared.
In April 2013, she was one of 12 Bond Girl celebrity guests in an episode of the BBC's Masterchef.
After the Q&A Martine will take part in a paid signing.
Doors open at 19.00, for a 20.00 start.
Refreshments will be available in our licensed cafe/bar.
There will also be a special screening of Dr. Jekyll and Sister Hyde (1971) at 5pm before the main event (separate ticket required, details here).
TICKETS & PRICING
Tickets in advance £14 (£13 concessions). On the door £15 (£14 concessions).
Advance tickets may be purchased from Billetto, or direct from the Museum by calling 020 7840 2200 in office hours.