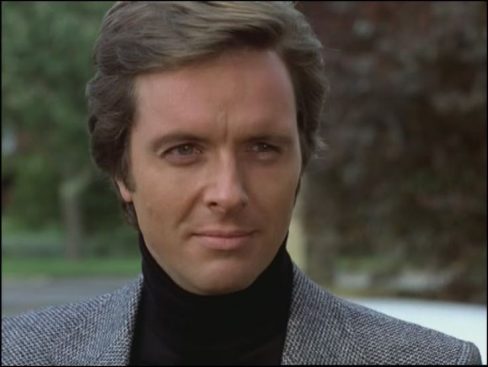 Come and spend an intimate evening with the legendary actor Ian Ogilvy during a rare visit to England. Ian will be joined on stage by Misty Moon's gorgeous MC Linda Regan who will be talking to Ian about his illustrious career.
Ian Ogilvy was born in Woking, Surrey, in 1943. His father, Francis Ogilvy, was an advertising executive whilst his mother, Aileen Raymond, was an actress who's first marriage was to the actor, John Mills. His uncle, David Ogilvy, was also an advertising executive who has often been called "The Father of Advertising" and was the Ogilvy in the famed advertising agency Ogilvy & Mather. Ian went to school in Sunningdale and later went on to Eton. Aged 17 he got a job as a stage hand with the Royal Court Theatre in London but after 6 months was offered a place at RADA and two years later left RADA to really start his acting career.
He achieved stardom with his first professional acting role, starring in friend Michael Reeves's Revenge of the Blood Beast (1966), aka The She Beast, but "it was modest stardom on a shoestring budget production on a £50-a-week salary for an 18-day schedule. It was no overnight fame or fortune!" More low budget movies followed, including The Sorcerers (1967) and The Witchfinder General (1968), before Reeves's untimely passing. Ian, meanwhile, further his stage experience in repertory at Colchester, Canterbury and Northampton and his film and stage career so far combined to land him guest roles in numerous TV shows such as The Avengers (1968) and Strange Report (1969).
A minor recurring role in TV classic Upstairs Downstairs (LWT, 1972) as Lawrence Kirbridge brought him to the attention of Robert S. Baker, the producer of Return of the Saint (1978-79). The rest as they say, is history.
After playing Simon Templar, Ian struggled for a while to find roles in the UK. A sit-com for Thames TV — Tom, Dick and Harriet (1982-83) — was well received but failed to last more than one series. Guest slots in shows such as Maigret (1988) and Robin of Sherwood (1986) helped but failed to bring the lasting stardom that Return of the Saint had suggested. A move to the USA in the late 1980s prompted something of a career resurrection as Ian carved a niche for himself guesting on numerous American TV shows, usually as the archetypal English baddie.
By the 21st Century, happily married to his second wife and with guest roles in Baywatch (1999), Babylon 5 (1998) and Melrose Place (1999) a long way behind him, Ian found himself a new career as his first children's book, Measle and the Wrathmonk was published to great acclaim. Three sequels have so far followed and the books have been optioned for the movies. Although he still takes on the occasional acting role it seems the Saint is now very much an author.
After the Q&A there will be a meet and greet with the audience and Ian will be taking part in a paid signing.
Doors open at 19.00, for a 20.00 start.
Refreshments will be available in our licensed cafe/bar.
There will also be a special screening of Witchfinder General (1968) at 5pm before the main event (separate ticket required, details here).
TICKETS & PRICING
Tickets in advance £14 (£13 concessions). On the door £15 (£14 concessions).
Advance tickets may be purchased from Billetto, or direct from the Museum by calling 020 7840 2200 in office hours.