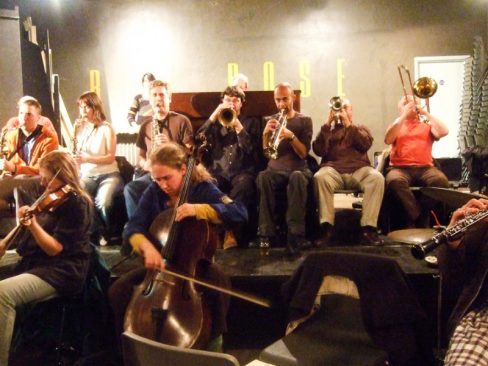 This year sees the 20th anniversary of the London Improvisers Orchestra. The LIO is dedicated to free and conducted improvisation, and draws on a large and shifting pool of improvising musicians from London and beyond. They have previously appeared at The Cinema Museum in 2012.
The first half of the programme will be a screening of three short films about the LIO:
Funny Patterns (2004), directed by Frank N
Singular Collective (2010), directed by Helen Petts
LIO at Rivoli Ballroom pt1 (2013), directed by Deborah May
Followed by Globe Unity Orchestra – Globe Unity 70 (1970/11/07) (1970), a short film featuring this free jazz ensemble formed in 1966.
The second half of the programme will be dedicated to a live performance including Video Conduction #1 by Dave Tucker.
More information about the London Improvisers Orchestra can be found on their website.
Doors open at 18.30, for a 19.30 start.
Refreshments will be available in our licensed cafe/bar.
TICKETS & PRICING
Tickets £8 (£6 concessions).
Advance tickets may be purchased from Billetto, or direct from the Museum by calling 020 7840 2200 in office hours.