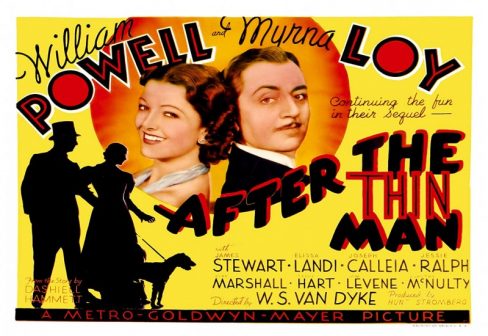 Our The Thin Man series continues with the 1936 American sequel, again directed by W. S. Van Dyke, with William Powell and Myrna Loy reprising their roles as Nick and Nora Charles, and the return of Asta the dog. James Stewart also stars.
The story is again by Dashiell Hammett, with a script from Albert Hackett and Frances Goodrich, which was Oscar-nominated. Nick and Nora Charles are invited to a New Year's Eve dinner by Nora's stuffy family, who look down on Nick. It soon transpires that the true reason for their invitation is that Nora's cousin Selma's ne'er-do-well husband Robert has been missing for three days. Can the couple help to locate him?
Full supporting programme.
Doors open at 13.30, for a 14.30 start.
Refreshments will be available in our licensed cafe/bar.
TICKETS & PRICING
Tickets £6.
Advance tickets may be purchased from Billetto, or direct from the Museum by calling 020 7840 2200 in office hours.