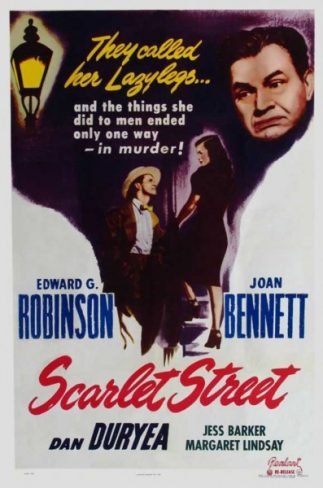 Kennington Noir presents Scarlet Street (1945), directed by Fritz Lang and starring Edward G. Robinson and Joan Bennett.
A lonely store cashier (the great Edward G. Robinson) is trapped in an unhappy marriage to a shrewish wife, and finds solace through his amateur painting hobby. Whilst on the way home one night he meets a beautiful woman (Joan Bennett) and he gradually becomes obsessed with her, seeing her as an escape from his humdrum existence and letting her believe that he is a wealthy artist. She plays along and takes advantage of his naiveté, manipulating him and extorting his money to support her own lifestyle. Her con-man boyfriend (Dan Duryea) gets her to pretend that the paintings are actually her own creations, and they attract a critic's attention, until Edward G. finds out the truth, when the plot gets darker still.
The second of two noirs made by the same team, the other being The Woman In The Window (1944), this brilliant film could well be called the blackest of Fritz Lang's American pictures. On its initial release it was censored in three US states and in the UK. Don't miss!
Plus supporting programme.
Doors open at 19.00, for a 19.30 start.
Refreshments will be available in our licensed cafe/bar.
TICKETS & PRICING
Tickets £6.
Advance tickets may be purchased from Billetto, or direct from the Museum by calling 020 7840 2200 in office hours.