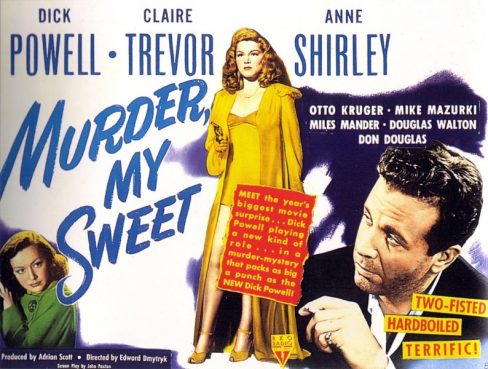 Kennington Noir Presents Murder My Sweet (1944), directed by Edward Dmytryk, and starring Dick Powell, Clare Trevor and Anne Shirley. Based on the Raymond Chandler novel Farewell My Lovely.
Long considered one of the quintessential films noirs, this tough, sardonic, and unusually witty film features hard-boiled detective Philip Marlowe (Dick Powell) hired by ex-con Moose Malloy (Mike Mazurki) to find his missing girlfriend Velma. Shortly thereafter, Marlowe is hired by socialite Mrs. Grayle (Claire Trevor) to find a valuable jade necklace that has been stolen from her. Marlowe finds the necklace and Velma and also finds blackmail, double crosses, corruption, and murder on both sides of the tracks.
This film changed the career of former song-and-dance man Dick Powell. Director Edward Dmytryk creates a truly bleak and disorienting night-time netherworld populated by a variety of sordid characters, including Mike Mazurki at his best. Claire Trevor is superlative in a difficult role and gives an unequaled performance as the most evil of femme fatales.
Digital presentation plus supporting programme.
Doors open at 19.00, for a 19.30 start.
Refreshments will be available in our licensed cafe/bar.
TICKETS & PRICING
Tickets £6.
Advance tickets may be purchased from Billetto, or direct from the Museum by calling 020 7840 2200 in office hours.