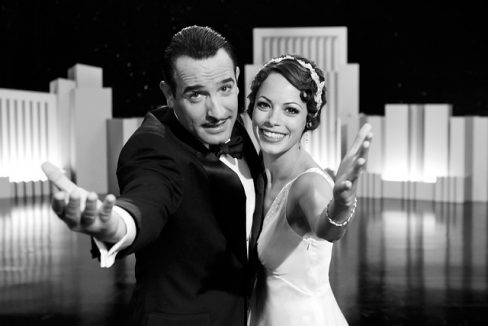 The Artist (2011) is a French romantic comedy-drama in the style of a black-and-white silent film. It was written, directed, and co-edited by Michel Hazanavicius, produced by Thomas Langmann, and stars Jean Dujardin and Bérénice Bejo.
The story takes place in Hollywood, between 1927 and 1932. Outside a movie premiere, enthusiastic fan Peppy Miller literally bumps into the swashbuckling hero of the silent film, George Valentin. The star reacts graciously and Peppy plants a kiss on his cheek as they are surrounded by photographers. The headlines demand: "Who's that girl?" and Peppy is inspired to audition for a dancing bit-part at the studio. However as Peppy slowly rises through the industry, the introduction of talking-pictures turns Valentin's world upside-down.
It was nominated for ten Academy Awards and won five, including Best Picture.
Full supporting programme.
Doors open at 18.30, for a 19.30 start.
Refreshments will be available in our licensed cafe/bar.
French 'silent' film which may be suitable for the deaf and hard of hearing.
TICKETS & PRICING
Tickets £6.
Advance tickets may be purchased from Billetto, or direct from the Museum by calling 020 7840 2200 in office hours.