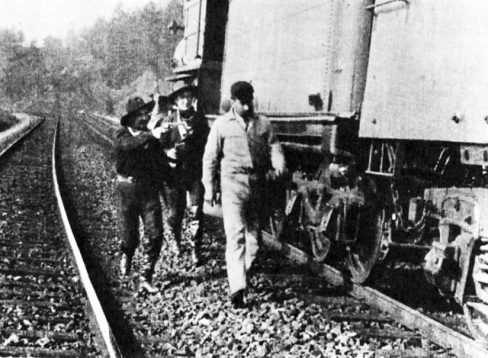 All aboard for another Kennington Bioscope special! An all-day excursion into the greatest railroadin' moments of silent cinema.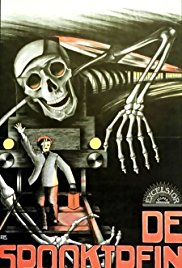 Thrill to the train of events that put movie heroines Ruth Roland, Helen Holmes and Gloria Swanson in peril! Express hilarity with Monty Banks aboard a runaway train, and sneak A Kiss in the Tunnel from 1899! Signal your approval of Jean Arthur in The Block Signal (1926). Climb aboard The Flying Scotsman (1929), in the rare silent version that differs radically from the talkie. Take a round trip with Kevin Brownlow as he pilots The Runaway Express (1926) before conducting us through the making of Abel Gance's La Roue (1923). Ride along with the Railroad Raiders of '62 (1911) – a precursor to Buster Keaton's The General – which will be rolling in from the sidings alongside other shorts, from the Lumière brothers' famous L'arrivée d'un train en gare de La Ciotat (1896) to a hair-raising journey When the Devil Drives (1907). After that, don't be afraid of The Ghost Train (1927), the first film adaptation of the famous stage play by a (very) pre-Dad's Army Arnold Ridley.
Provisional programme:
10.00 The Train Now Arriving… David Wyatt introducing
L'arrivée d'un train en gare de La Ciotat (Fr 1898) Auguste and Louis Lumière
The Flying Scotsman (UK 1929) Directed by Castleton Knight and starring Gordon Harker, Alec Hurley, Pauline Johnson, Moore Marriott and Ray Milland
11.45 Thrills & Frills Michelle Facey presents a programme of women on the railways. Whether they're causing trouble or saving the day, women weren't always just relegated to being tied to the tracks… Helen Holmes, Fay Tincher and Gloria Swanson and others feature in five complete short films.
The Wreckers of the Limited Express (USA 1906) 12mins (35mm)
Un Drame Sur une locomotive / The Rival Engine Drivers (Fr 1910) 6mins (35mm)
Hazards Of Helen Ep.13 'The Escape on the Fast Freight' (USA 1915) 13mins (Digital)
Station Content (USA 1918) 12mins 9.5mm version (Digital)
Rowdy Ann (USA 1919) 20mins (Digital)
13.00 Lunch
14.00 The Runaway Express Kevin Brownlow introducing
The Runaway Express (US 1926) Directed by Edward Sedgwich and starring Jack Dougherty, Blanche Mehaffey and Tom O'Brien
15.30 Playing Trains David Wyatt presenting
Railway Comedies from The Kiss in the Tunnel (UK 1899) Riley/Bamforth to Play Safe (USA 1927) with Monty Banks
17.20 La Roue and its making Kevin Brownlow presenting
Autour de La Roue (Fr 1926) Directed by Blaise Cendrars plus sequences from Able Gance's La Roue (Fr 1923)
18.45 Dinner
20.00 Railway Devils, Ghosts and Raiders Susan Cygan and Neil Brand introducing
The Great Train Robbery (USA 1903) Directed by Edwin S Porter
Railroad Raiders of 62 (USA 1911) (an early version of The General (1926))
The Ghost Train/Der Geisterzug (UK/Ger1927) Directed by Géza von Bolváry from the play by Arnold Ridley and starring Guy Newall, Ilse Bois and Louis Ralph
22.00 End
All films will have live accompaniment by our highly acclaimed team of musicians – John Sweeney, Neil Brand, Costas Fotopoulos and Cyrus Gabrysch.
Silent films with intertitles which may be suitable for the deaf and hard of hearing.
From 10.00 to 22.00 approx.
Tickets & Pricing
Ticket prices are £18 for a one day pass, £10 for a morning pass, £12 afternoon/evening pass. £5 main evening feature 8pm. £6.50 Dinner at Jamyang. To book online (or pay by cheque), go to the TicketTailor page https://www.tickettailor.com/events/kennington-bioscope/169669#-bioscope/138976.