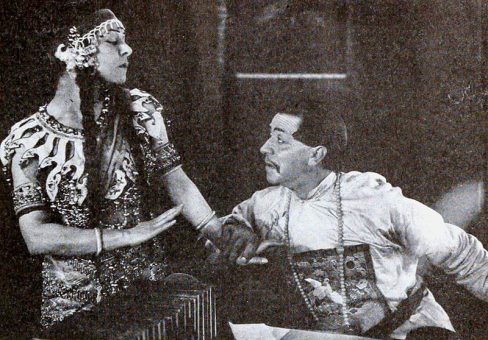 The Kennington Bioscope is a regular cinema event featuring live accompaniment to silent films that takes place at the Cinema Museum.
The main feature is The Red Lantern (1919), directed by Albert Capellani, and starring Alla Nazimova and Noah Beery.
The Red Lantern tells the story of Mahlee, a Eurasian, Joan of Arc-like heroine, set against the background of China's 1900 Boxer Rebellion. The film was an instant success, thanks to an unprecedented advertising campaign and the star qualities of diva Alla Nazimova. The Russian Nazimova, who had a highly successful stage career, joining Constantin Stanislavski's Moscow Arts Theatre and appearing in theatres across Europe and also on Broadway, plays a dual role in the film as two half-sisters, Mahlee and Blanche Sackville. Noah Beery is one of her co-stars and both Reginald Denny and Anna May Wong make uncredited appearances. The 14-year-old Chinese-American actress made her film debut here as a lantern-bearer.
A spectacular and lavish production from Metro Pictures, directed by Albert Capellani who co-authored the scenario with June Mathis, one of the top film writers for the silent period.
This fully tinted and toned restoration will be screened courtesy of the Royal Belgian Film Archive.
A programme of silent shorts precedes the main film.
Silent film with intertitles which may be suitable for the deaf and hard of hearing.
Anyone interested in silent film should visit the website for more info.
Tickets & Pricing
£5. Seats are limited, so please request an invitation using the email kenbioscope@gmail.com.