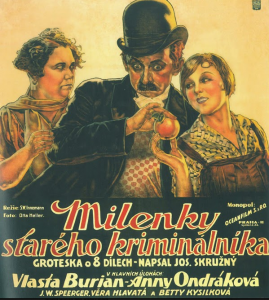 The Kennington Bioscope is a regular cinema event featuring live accompaniment to silent films that takes place at the Cinema Museum.
Our main feature is The Lovers of an Old Criminal (An Old Gangster's Moll) (1927), directed by Svatopluk Innemann, with Vlasta Burian, Anny Ondra, Jan W.Speerger and Jindrich Plachta. This is a restored Czech crazy slapstick comedy about the factory owner Mr Pardon and his uncle Mr Monday, who swap their identities and invent incredible stories to escape marriage and be with their beloveds. Starring one of Alfred Hitchcock's muses Anny Ondra and "the King of Czech Comedians" Vlasta Burian, this silent movie excels for its original slapstick, especially the mélange of invented murders, chases, and doppelgänger scenes.
Silent film with intertitles which may be suitable for the deaf and hard of hearing.
Anyone interested in silent film should visit the website for more info.
Tickets & Pricing
£5. Seats are limited, so please request an invitation using the email kenbioscope@gmail.com.