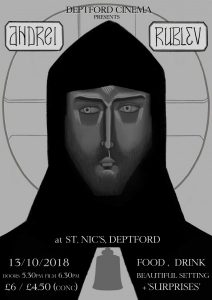 The volunteer-run Deptford Cinema, recent winner of Cinema for All's Best UK Community Cinema, and best UK Community Cinema programming, is proud to present one of the greatest films of all time, Tarkovsky's Andrei Rublev (1966).
"True to the spiritual subject matter of this masterpiece we are very lucky to have been given the chance to screen at St Nicholas's Church in Deptford, the resting place of Christopher Marlowe and home to beautiful carvings by Grinling Gibbons. This is a special opportunity for the cinema to take film out of its 40-capacity cinema into the wider local community and beyond."
On 13 October 2018 from 5.30pm onwards, with the film starting at 6.30pm, please join them at the Church (SE8 3DQ) for film, snacks, drinks and cocktails and some very special surprises.
Tickets are available through their website calendar or through the cinema's Facebook page.