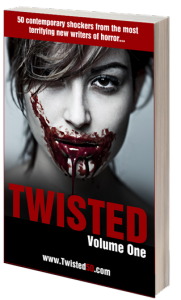 Twisted50 Volume 1 is a deliciously dark slice of contemporary horror literature. Reading it is like attending a late night secret banquet where you know each course will serve up something unexpected, forbidden and unforgettably chilling. Take your private seat now for 50 luscious courses of terror, from 50 of the strongest voices in modern horror.
In attendance will be many of the writers of the stories in Twisted50, the voice-over artists who have narrated the audiobook (launching on the night), the Create50 team, industry judges and of course, filmmakers and writers from our wider community. The evening will give you the opportunity to grab your collectable signed copy of Twisted50 as well as network and attend the awards.
And you know that we will be giving you way more than a fabulous party and awards. You can expect some interactive gothic horror 'live drama' too. The lines between what is real, and what is Twisted50 will definitely blur.
We will get great photos of you on the red carpet to share with you on social media. And do expect surprises that will make your heart race in more ways than one. All good clean, grown up fun… Twisted style of course.
More information and ticket details on the Twisted50 website.
Twitter: @Create50 and @livingspiritpix
Watch the trailer:
[tube]V9HHQ8_IAOY[/tube]
Dress code: Fabulous and / or gothic.
Expectations: Set to high!
Doors open at 18.00, for a 19.00 start.
Refreshments will be available in our licensed cafe/bar.
TICKETS & PRICING
Tickets from £15 are available on the Twisted50 website.