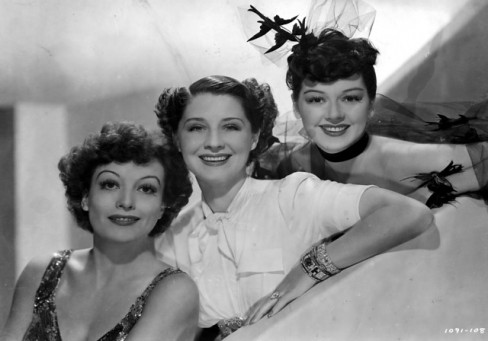 ReShape and the Cinema Museum present the third screening of the VITO Project, a series of free monthly screenings bringing generations of LGBTs together to provide an alternative space to mix, watch films and share ideas.
The VITO Project is delighted to present The Women, the 1939 American comedy-drama film directed by George Cukor, and based on Clare Boothe Luce's play of the same name. The film stars Norma Shearer, Joan Crawford, Rosalind Russell, Paulette Goddard, Joan Fontaine, Lucile Watson, Mary Boland, Florence Nash, and Virginia Grey, as well as Marjorie Main and Phyllis Povah.
"The Women is the story of nice girl Mary Haines (played by Norma Shearer), sporty and straightforward, who loses her husband to shop-girl vamp Crystal Allen, a red-lipped, black-eyed Joan Crawford. Swimming around the disaster like sharks around a shipwreck are Mary's friends; a group of women with nothing to do except eat lunch and get their nails painted Jungle Red in Sydney's Beauty Parlour"- Jeanette Winterson
The screening will be followed by an open discussion, with Neil Bartlett, playwright and director. Sean McGovern, film programmer and podcaster, will be our MC for the evening.
The project is endorsed by BFI Flare: London LGBT film festival, 56 Dean St, QX Magazine, Gay's the Word, ACT UP London, Gay Mates, a Change of Scene, the Cara Trust, I-Base, UK-CAB, Positively UK, Gaydio, NAZ Project, Frank Byrne & his walkers and Broad Appeal Podcast.
Doors to the cafe/bar will open at 18.00 for a 19.00 screening. Come early to secure a seat as it can get very busy and we do not take bookings. The doors to the Cinema will be shut once capacity is reached.
TICKETS & PRICING
This is a free event but we need your donations on the night to ensure the continuation of the VITO project. All donations go towards covering the costs associated with running the event (film licences, heating and lighting, rental of the premises, printing, promotion etc). Donations are VITO's only source of funding and we need to raise an average of £5 per person just to cover our costs. So PLEASE DIG DEEP and give us a paper donation if you are able to.
Find out more about the VITO Project on their website.