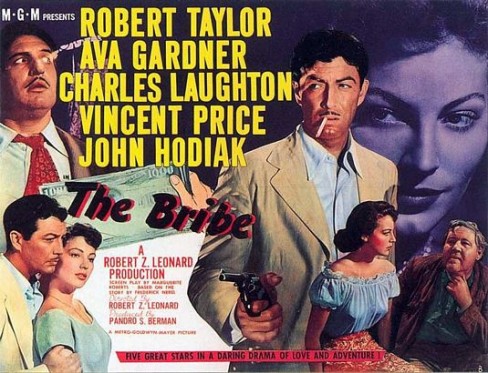 Federal agent Rigby (Robert Taylor) travels to the generic island of 'Carlota', located somewhere vague off the coast of Central America, to break up a war-surplus aircraft engine racket. Unfortunately, while there he finds himself tempted by corruption, namely Elizabeth Hintten (Ava Gardner), a café singer married to Tug Hintten (John Hodiak), a drunken ex-pilot. Vincent Price(!) and Charles Laughton add to the all-star cast and appear as somewhat hammy heavies.
In the book Cult Movies by Karl French and Philip French, they write, "In classic noir style, the chain smoking Rigby tells most of the story in flashbacks that begin as visions he sees on the rain-lashed window of his hotel room. His voiceover narration continues as he battles with his conscience and tries to retain his honour in a world reeking of corruption. Laughton and Price are splendidly hammy villains and Gardner's nightclub singer is an innocent femme fatale in the manner of Rita Hayworth's Gilda".
The Bribe is also notable for being one of the films noirs spliced up and rearranged by Carl Reiner and Steve Martin in their noir spoof, Dead Men Don't Wear Plaid (1982): "Enemies of Carlotta…"
Plus supporting programme and a short introduction from Kulraj Phullar, who has recently completed a PHD in 'Good Girls In Film Noir' at King's College London.
Doors open at 19.00, for a 19.30 start.
Refreshments will be available in our licensed cafe/bar.
TICKETS & PRICING
Tickets £6.
Advance tickets may be purchased from Billetto, or direct from the Museum by calling 020 7840 2200 in office hours.