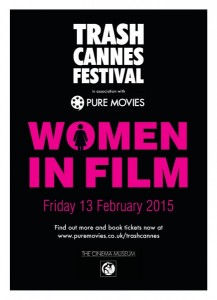 The Trash Cannes Festival is an opportunity to dive face first, mouth open, into the hidden, forgotten, and overlooked cultural eddies of London. Unexpected, sometimes subversive, always informative, we explore film, punk, and art, and debate in venues as surprising as the content. Trash Cannes is about the uncompromising, the enlightening, and the just plain fun.
An eclectic mix of both overlooked and burgeoning filmmakers, musicians, writers, and artists, celebrating the art and industry of film and fostering a synergy between music, art, and cinema: 'It's not what we look at, it's how we look at it.' The festival seeks to offer a mix of unexpected juxtapositions.

First up will be some early Chaplin shorts, presented by Ümit Mesut. Ümit has owned the shop Ümit and Son in Clapton for over twenty years and is one of Europe's biggest collectors of Super 8 and other film formats. These will be accompanied by Fiona Ross and her band. Fiona's career has taken her all over the musical map, including directing musical theatre, scoring theatre productions and appearing on the West End stage; but her first love is jazz, and she has recently produced an album entitled A Twist of Blue.
Following this will be a symposium on Women's Roles and Representation in Film, with a panel of esteemed guests including:
Rebecca Perfect, actress and film presenter for Channel 5 and Sky News, who will lead the discussion
Sophie Mayer, Queen Mary University, author of numerous book on film and feminism
Faye Ward, the producer of new film Suffragette (2015)
Nichola Martin, BBC Films Development Executive – Philomena (2013)
Holly Tarquini, who developed the F-Rating strand at the Bath Film Festival
Kahleen Crawford, casting agent – Under the Skin (2013), Filth (2013)
Gurinder Chadha, director – Bend It Like Beckham (2002), Bhaji on the Beach (1993)
Finally, we will be showing Bhaji on the Beach (1993). Gurinder Chadha's much-loved film, with a script by Meera Syal, follows a group of Birmingham women of Indian descent on a day out to Blackpool. It will be introduced by her nephew Amer, who played the 3-year-old Amrik in the film.
Doors open at 17.00. Programme starts at 18.00. Come early and explore this utterly unique museum.
Refreshments will be available in our licenced cafe/bar.
TICKETS & PRICING
Tickets: £5.00 (£3.00 concessions)
Advance tickets may be purchased from Billetto, or direct from the Museum by calling 020 7840 2200 in office hours.