The Gothique Film Society, London's only specialised horror and fantasy film club, was founded in September 1966 by Robin James and the late Jim Kearley.
In October the society will be starting its 50th season. To celebrate this remarkable milestone we are delighted to team up with The Cinema Museum and present two superb double bills of fantastic films, each film being introduced by a special guest.
This celebration is open to non-members, who will be especially welcome.
Afternoon: Doors open at 1pm for a 2pm start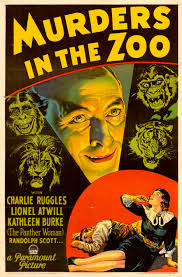 Murders in the Zoo (1932)
Director: Edward Sutherland
Starring: Lionel Atwill, Charlie Ruggles, Gail Patrick, Randolph Scott
In this delirious pre-Code horror an insanely jealous zoologist murders his wife's lovers in ever more brutal ways. This completely OTT film stars Lionel Atwill, the 'maddest of mad scientists', at his deranged best.
Introduced by author Neil Pettigrew, who will be signing copies of his new biography, Lionel Atwill: The Exquisite Villain.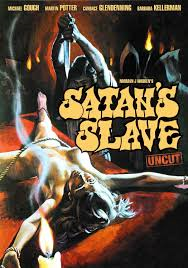 Satan's Slave (1976)
Director: Norman J. Warren
Starring: Michael Gough, Martin Potter, Candace Glendenning, Barbara Kellerman
A young girl is caught up in a devil cult run by her evil uncle and cousin. Genre favourite Michael Gough stars in this classic of 70s exploitation/horror.
Director Norman J. Warren will introduce this special screening of his own 35mm print – the full, uncut version.
Evening: Doors open 6pm for a 7pm start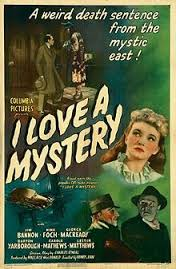 I Love a Mystery (1945)
Director: Henry Levin
Starring: Jim Bannon, Nina Foch, Barton Yarborough, George Macready
Opening with a car crash and a decapitation, this compelling story is told in flashback as our heroes, Jack and Doc (from the hugely popular I Love a Mystery radio series) become involved with a man who tells them that he will die in just such a manner in three days' time. A large amount of money, an Oriental cult, a mysterious women, a peg-legged man, and many more deaths are also involved.
Introduced by author, broadcaster and critic Kim Newman.
Green Fingers (2000 / short)
Director: Paul Cotgrove
Starring: Ingrid Pitt, Janina Faye, Robin Parkinson
Our guest, Janina Faye, starred with Hammer legend Ingrid Pitt in this short spooky tale about a lady who can grow anything in her garden…
Director Paul Cotgrove will introduce his own 35mm print.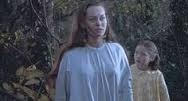 Dracula (1958)
Director: Terence Fisher
Starring: Peter Cushing, Christopher Lee, Michael Gough, Melissa Stribling
We are delighted to present a rare big screen showing of the most complete version of this genre classic ever released in the UK. This sumptuous Blu-ray release contains the 2007 BFI restoration and also the 2012 Hammer restoration, with footage from the infamous 'Japanese reels' that had been unavailable for decades.
Introduced by actress Janina Faye, who played young Tania in this Hammer classic.
In addition to the screenings, author and Gothique Film Society regular, Darrell Buxton, will be signing copies of his new book, Dead or Alive, a tribute to 80s British horror films.
A memorabilia stall and a display of genre items will complete this anniversary celebration.
Refreshments will be available in our licenced cafe/bar. You will be welcome to remain in the café/bar during the interval between the double bills.
TICKETS & PRICING
Tickets £12 for both double bills, or £7 for one double bill.
Advance tickets may be purchased from Billetto, or direct from the Museum by calling 020 7840 2200 in office hours.