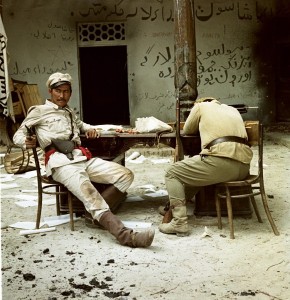 A 35mm screening of USSR/Uzbekistan film, The Seventh Bullet / Sedmaya Pulya (1972), directed by Ali Khamraev (84 mins). This special retrospective screening is part of the 7th Asia House Film Festival, supported by Prudential.
The films of Uzbek director Ali Khramraev are long overdue discovery in the UK. This stunning "Red Western" is a real revelation. Adapting the gritty nihilism of Sergio Leone's Spaghetti Westerns to local landscapes, its story unfolds during the Basmachi Revolt of the 1920s, in which Communist reformers sought to suppress an uprising by the Muslim peoples of Central Asia.
In a feat of daring, Maxumov, a Red Army officer whose troops have deserted him for the charismatic rebel leader Khairulla, allows himself to be captured and attempts to win back his men to the Bolshevik cause from within the enemy stronghold. The resulting mind games admirably refuse to paint either side in black and white, the conflicting psychologies of its protagonist thrown into relief by the barren locales and ransacked villages in which the gripping gun-battles and chases unfold, with results that have drawn comparisons with the work of John Ford and Akira Kurosawa.
Doors open at 19.00, for a 19.30 start.
Refreshments will be available in our licenced cafe/bar.
TICKETS & PRICING
Spring Season 2015 ticketing applies.
Advance tickets may be purchased from Billetto, or direct from the Museum by calling 020 7840 2200 in office hours.