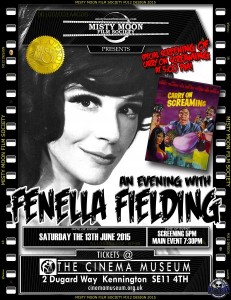 Fenella Fielding's film appearances began in 1959 with Sapphire. Subsequent titles include Foxhole In Cairo (1960), Old Dark House (1963) and then a run of very successful comedy roles: various 'Doctor' films – most notably as Tatiana Rubikov in Doctor in Clover (1966) – Carry On Regardless (1961) and of course her iconic Valeria Watt in Carry On Screaming (1966). This was followed by a role in the big MGM production, Drop Dead Darling (1966), starring Tony Curtis.
Join Fenella as she talks about her remarkable career in film, theatre, TV and radio, with a particular focus on her famous and eclectic film roles.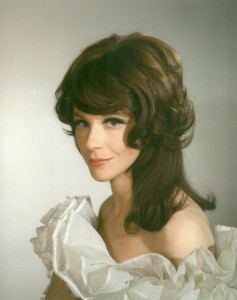 Also, for one evening only, some of Fenella's personal memorabilia from her film career will be on display.
The evening will be hosted by Trevor Blackman of Break London Radio.
For more information on Fenella's career: www.fenellafielding.com
Doors open at 19.00, for a 19.30 start.
Refreshments will be available in our licenced cafe/bar.
TICKETS & PRICING
Advance tickets £12 / £11 concessions.
On the door £14 / £13 concessions.
Advance tickets may be purchased from Billetto, or direct from the Museum by calling 020 7840 2200 in office hours.