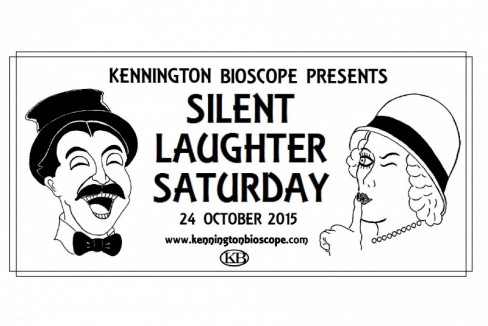 The Kennington Bioscope are very pleased to present their first Silent Laughter Saturday. Anyone interested in silent film should visit their website for more information.
10.00
Paths to Paradise (1925)
Kevin Brownlow introduces Raymond Griffith's rarely seen comedy feature, directed by Clarence Badger.
"When Griffith saves Betty Compson (so he thinks) from a criminal gang, he becomes involved in a diamond robbery and a chase pursued by what appears to be every available motorcycle cop in the country."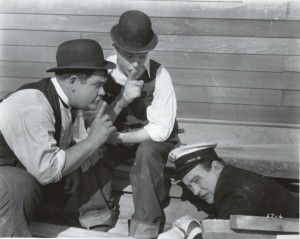 11.30
'Laurel & Hardy Revelations'
Some recent Laurel & Hardy discoveries from their careers both together & individually.
(When Knights Were Cold (1923), Stan Laurel's favourite Hollywood spoof, is the only title we can reveal before the day!).
David Robinson (writer, Times film critic and director of Italy's acclaimed Pordenone Silent Film Festival) will recount his acclaimed 1954 interview with the famous comedy team.
LUNCH
The top international comedians that we know and love today – Charlie Chaplin, Buster Keaton, Harold Lloyd and Harry Langdon, were rivalled by many other silent screen talents at the time.
Matthew Ross (editor of Movie Night magazine) introduces us to some of the performers who almost overtook the big four – Charley Chase, Lupino Lane and Lloyd Hamilton to name a few.
16.00
'A Hard Act To Follow'
Kevin Brownlow discusses Buster Keaton and the Emmy Award winning TV series, Buster Keaton: A Hard Act to Follow (1987), that he made in collaboration with David Gill. They produced three programmes for Thames Television and Channel Four. This unique presentation will include extracts – hopefully including some never-before-seen outtakes. This will be followed by a Q&A, a great opportunity to ask Kevin about Keaton and the making of this series.
Hosted by David Wyatt.
17.35
You'd Be Surprised (1930)
Walter Forde is considered by many to be one of Britain's best silent comedians. You'd Be Surprised was also directed by Forde and made in 1930, on the cusp of the transition to sound. This was Forde's last starring feature film.
"In trying to get an audition for a song he's written, Walter somehow ends up in a prison escape, handcuffed to a serial killer and suspended from a plane during a wild storm, and that's just for starters."
Introduced by Tony Slide, author of more than 70 books on silent film and friend of Walter Forde during his last years in Hollywood.
DINNER
One of Harold Lloyd's best, most gag-filled comedies.
"When the girl Harold meets on a train (Jobyna Ralston) is about to marry the wrong man, Lloyd's furious reaction initiates arguably the greatest chase climax of the entire silent cinema!"
"What he goes through to get there is beyond the mere power of a typewriter to describe." Variety
With an introduction by Kevin Brownlow.
Doors open at 09.30, for a 10.00 start. This event is expected to end at 22.30.
Please note that the programme is subject to change.
CATERING
The Museum's café and bar will be open throughout the event, serving sandwiches, hot pastries, cakes, snacks, alcoholic beverages and hot and cold drinks.
The 'Café Jamyang', which is situated in the beautiful grounds of the Buddhist Centre next to the Cinema Museum, will be offering a full lunch and dinner service during the event.
This will consist of a vegetarian buffet at a cost of only £5 per sitting.
SPECIAL OFFER: If you want to skip the queue then you can purchase an advance 'Lunch and Dinner' ticket for only £9 when you purchase your Festival pass.
TICKETS & PRICING
£15 for the whole day pass, £6 for any one of the morning, afternoon and evening sessions. All tickets available from the Festival ticket website.