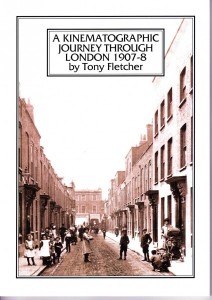 A Kinematographic Journey Through London (1907-8), by  Tony Fletcher
Local History Publications, 2013
ISBN 1873520921, 9781873520925
140 pages
Available from the Cinema Museum for £15+p&p.
"A Kinematographic Excursion through London" was the title given to a two part article by Hermann Lemke published in Der Kinematograph on 25 September 1907 and 18 December 1907. During his two day visit to London, he journeyed by Hansom cab in search of kinematograph theatres, but never found one. He reported on the various venues he visited, concluding that "the kinematograph, as a People's Pleasure Palace has its place, but overall the kinematograph is to be found in the Music Halls around London." In the third part of this series researching the records deposited at the London Metropolitan Archives and the London County Council, as well as other contemporary sources, Tony Flether follows Lemke's example and looks at what venues were showing films in London during 1907 and 1908.