The Elephant & Castle was once home to an extraordinary number of picture houses and was known as the Piccadilly Circus of the South. The Cinema Museum's Picture Palace Project is a community heritage scheme organised by Abigail Tripp and Cinema Museum volunteers, with money from the Heritage Lottery Fund. Our volunteer community curators recruited from the local community have been exploring the local cinema heritage, recording local people's memories of a golden era, and trying to find out what going to the pictures meant to local audiences.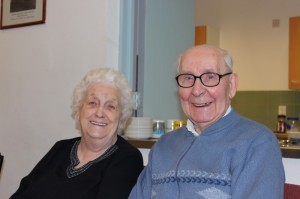 The project was inspired by conversations with local residents Daisy Moore and Harry Abbs, now 85 and 90 respectively, who invited Museum volunteers into their homes to hear their stories of cinema-going in the 1930s and 1940s, The idea developed was to explore the history of cinema around Kennington and Elephant and Castle – an area of London with a long tradition of popular entertainment, which has been home to dozens of cinemas over the years. Sadly, most of these glorious local cinemas, including The Trocadero, The Coronet and The Ideal, have been demolished or converted.
At an exhibition about the project on 21 September 2013, visitors were able to see (and hear) some of the results of the Picture Palace Project, including the Project map that has been produced, which is available in a beautifully designed print version and an interactive Google Map, together with extracts from oral history interviews, archive material and scrapbooks.
See the full online Picture Palace Project map here.
The Project map identifies 42 almost forgotten cinemas in and around Elephant & Castle. From the 3,500 seat Trocadero at the Elephant to the modest Cosy in Lower Marsh, the cinema was an oasis for many who lived in poor and cramped conditions in 20th century Southwark and Lambeth.
The interactive version of the Project map is also linked to the Project blog, which is a great place to find some of the photos, quotes and audio recordings collected by the Project, including this radio broadcast of oral histories from the project. If you would like to contribute your own memories, pictures or observations to this living history project, get in touch with the curators at picturepalaceproject@gmail.com.