A musical comedy of Chaucer's "14th Century Carry On", told as never before!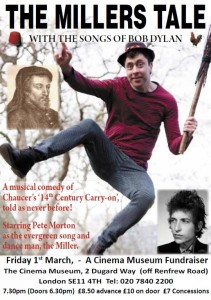 Starring Pete Morton as the evergreen song and dance man, the Miller.
'You've taken a gem of a story and re-worked it so brilliantly for a contemporary audience, you've blown the dust off Chaucer's language and made us hear it afresh, you've made us laugh, sing, listen … you made me cry with laughter. You were brilliant!'  Vivien Ellis of the Dufay Collective, the international ensemble Sinfonye and Dartington Music Summer School
Acclaimed folk singer Pete Morton is a songwriter and performer with a wealth of great songs and stage presence – this unique one-man theatre show is just one strand in his multi-faceted performing career.
Tickets & Pricing
Advance: £8.50/£6.50 (concs)
On door: £10/£7 (concs)