Tonight Sylvia Syms presents a one-woman show, recounting her fascinating career in film and TV.
Born in Woolwich, south-east London, and trained at RADA, she began her acting career in repertory theatre, where she was discovered for films by British star Anna Neagle and her director/husband Herbert Wilcox. An early role for the starlet was as Neagle's "problem" daughter in My Teenage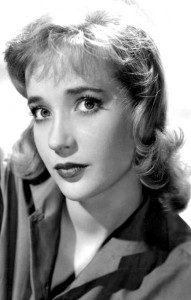 Daughter (1956), followed by a second Neagle/Wilcox collaboration No Time for Tears (1957).
Her film list grew impressive in the late 1950s and early 1960s, working alongside John Mills, Anthony Quayle and Harry Andrews in Ice Cold in Alex (1958), Curd Jürgens and Orson Welles in Ferry to Hong Kong (1959), Lilli Palmer and Yvonne Mitchell in Conspiracy of Hearts (1960), Laurence Harvey in Expresso Bongo (1959), William Holden in The World of Suzie Wong (1960), and Dirk Bogarde in the landmark gay-themed Victim (1961), playing the unsuspecting wife of Bogarde's closeted male. In 1963, she played Tony Hancock's wife in The Punch and Judy Man. Other comedies followed, but it was for drama that she won acclaim, including The Tamarind Seed (1974) with Julie Andrews and Omar Sharif, for which she was nominated for a British Film Academy award.
Extensive television work has included a portrayal of Margaret Thatcher soon after her downfall as Prime Minister, an appearance in the Doctor Who story "Ghost Light" (1989), and regular roles in both the ITV comedy-drama series At Home with the Braithwaites and Eastenders.
In 2006, she co-starred as Queen Elizabeth the Queen Mother alongside Oscar-winner Dame Helen Mirren in Stephen Frears' acclaimed film The Queen.
Doors open at 18.30 for a 19.30 start, and the event is expected to end at 22.30. Refreshments will be available.
This is a Cine Sisters event, in association with The Shaw Society.
Tickets & Pricing
Spring Season 2012 ticketing applies.