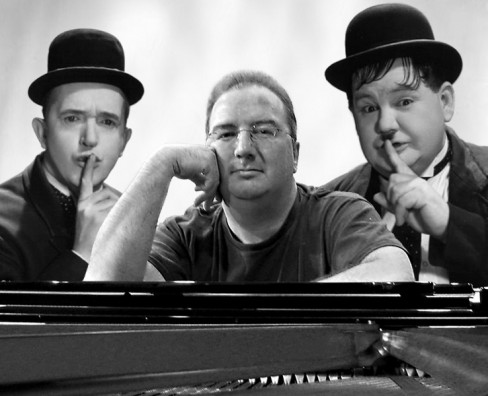 We are delighted to host the 'doyen of silent film pianists' Neil Brand as he presents his critically acclaimed one-man show, using clips from some of the greatest moments in silent cinema to illustrate his globe-trotting 25-year career, and the special place of music with silent film.
From the earliest, earthiest comedies and thrillers, through a silent cine-verité classic scripted by a young Billy Wilder, to the glories of Hollywood glamour and the sublime Laurel and Hardy, Neil provides improvised accompaniment and laconic commentary on everything from deep focus to his own live cinema disasters. He investigates how music works with film by inviting the audience to score a love scene, and the show culminates with Neil accompanying a clip 'sight unseen' whilst simultaneously describing his reactions to it. The result is a hilarious, sharp and ultimately moving show about cinema and music which pays tribute to the musicians of the silent era through the observations of one the world's greatest improvising accompanists.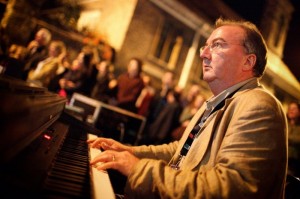 "Assisted by the thrilling wit and polish of Brand's lightning-fingered accompaniment, the sheer finesse of each successive slapstick selection works its magic on the audience and the laughter flows more and more freely." Telegraph 2007
"A richly diverting hour of entertainment – Brand should break his silence more often." Metro 2007
"Brand's improvised piano playing elevates silent movies from crude slapstick to subtle ballet." Guardian 2007
Neil Brand has co-starred with Paul Merton in two UK-wide tours of Paul Merton's Silent Clowns, and has toured the UK and US with his first show Where Does the Music Come From? Originally trained as an actor, Neil combines the disciplines of composer, writer and performer in a unique way, creating work in cinemas, theatres, concert halls, radio and TV. He performs regularly at the NFT on London's South Bank and at film festivals and special events throughout the world. In 2007 his orchestral score for the 20s chiller The Cat and the Canary was a highlight of the New Zealand Film Festival, while his new scores for Hitchcock's Blackmail and Asquith's Underground for an 80-piece orchestra received UK and world premieres with the BBC Symphony Orchestra to great acclaim. He is a regular broadcaster on BBC Radio 4, and is particularly known for his analyses of classic film scores on the Film Programme.
He has written the title music and scores for many TV documentaries including Paul Merton's Silent Clowns, Silent Britain and Great Britons and scores for over 50 Radio 4 dramas including War and Peace, The Box of Delights, several of the BBC audio Shakespeare Collection plays and Sony award winner A Town Like Alice. Neil is also highly regarded as a writer of radio plays including the Sony-nominated Stan, which he adapted in 2006 to great acclaim for BBC4 TV.
Doors open at 18.30 for a 19.30 start, and the event is expected to end at 22.30. Refreshments will be available.
Tickets & Pricing
Spring Season 2012 ticketing applies.