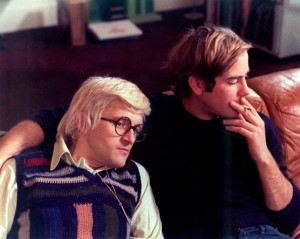 Little Joe, a magazine about queers and cinema, mostly, launches A Little Film Club, a monthly screening programme in London, with Jack Hazan's A Bigger Splash, a unique insight into the world of David Hockney at the height of his fame during the 1970s. Little Joe is proud to welcome Jack Hazan who will be in conversation with Stuart Comer (Curator of Film at Tate Modern) following the screening.
[tube]m2sEkXKxQs8[/tube]
Little Joe's A Little Film Club is supported by Film London's Community Pilot Fund through National Lottery Funding on behalf of the BFI.
Tickets & Pricing
£7.50 / £5.00 concessions / Free for Film Club Members.
Available online at littlejoebiggersplash.eventbrite.co.uk
Little Joe, Studio 20, Clink Street Studios, 1 Clink St, London SE1 9DG
m: +44 (0)7739 024 200 | w: www.littlejoemagazine.com
f: www.facebook.com/littlejoemagazine | t: @littlejoemag
Membership
Little Joe is offering membership to A Little Film Club. For the introductory price of £30, members will receive free access to our initial 6-month screening programme at the Cinema Museum and the Rio Cinema between January – June 2012. Members also receive a copy of Little Joe magazine and all six limited edition film posters from each event. The membership scheme is currently limited to 30 members. To become a member or to find out more information, please email michael@littlejoemagazine.com