We are again the London venue for this annual free event, to which film format home movies can be brought for advice from archivists, with projectionists on hand. You don't have to have home movies to come along. There'll be special events, cakes and prize competitions! www.homemovieday.com/london
Special Screening – Hitchcock's Home Movies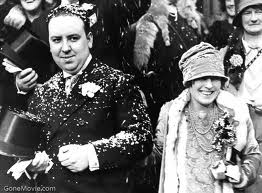 Home Movie Day London is thrilled to present a selection of Hitchcock family home movies as our special event for 2012, which marks the tenth anniversary of International Home Movie Day. As one of the greatest film directors of all time, Alfred Hitchcock entertained, shocked and enthralled audiences worldwide in a film making career spanning six decades. His most enduring collaborator, both personally and professionally, was his wife Alma Reville. Having worked as a screenwriter and editor before their marriage, Reville acted as a vital consultant to Hitch on all of his pictures and their daughter Patricia also starred in several Hitchcock films. Behind the scenes, the happy home life of the Hitchcocks is evident in their home movies which show the Master of Suspense in a playful mood. The films follow the Hitchcocks across the Atlantic and back again, from the making of Blackmail in 1929 to Hitchcock's return to Britain for Frenzy in 1971.
This screening will take place at 1pm and will be introduced by BFI curator Nathalie Morris.
Hitchcock's Home Movies at the Cinema Museum is part of the BFI's 'Genius of Hitchcock' season and presented courtesy of the Alfred Hitchcock Collection at the Academy Archive and the Estate of Alfred Hitchcock.