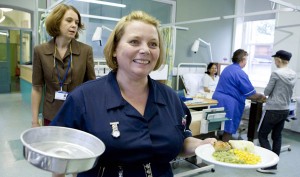 Back this October for its third series, award-winning BBC sitcom Getting On is set in an NHS ward stretched to breaking point with elderly patients. Join leads/co-writers Joanna Scanlan and Vicki Pepperdine talking with fellow actor Tobias Menzies (Rome, Atonement) about their fly-on-the-wall cinéma vérité style, with clips illustrating their work and diverse influences – plus we'll be including a sneak preview from later in the season!
Co-written by its three leads (Joanna Scanlan, Vicki Pepperdine and Jo Brand), the show has received very high praise from TV critics across the board in the UK for both the actors' performances and the  gritty, realistic portrayal of an NHS hospital.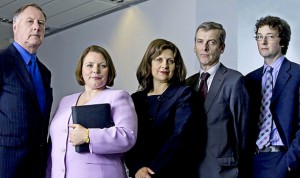 Scanlan is perhaps best known as civil servant Terri Coverley in Armando Iannucci's political satire The Thick Of It. Getting On has The Thick of It to thank for its handheld, mockumentary style – and Peter Capaldi, none other than sweary Malcolm Tucker himself, features as psychiatrist Dr Healy and directed the first two series.
In 2010 Getting On won both the Royal Television Society Award for Best Writing in Comedy and the Writer's Guild Award for Best Comedy, with The Telegraph rating it as the best British television show of the year. As both writers and actors, Scanlan and Pepperdine  are passionate about their Stanislavski approach: "It is all rooted in character, starting with character first and then building into text via character." In Getting On, their method has produced a show that is instantly recognisable as true and real: "We wanted an absolute sense of the authentic experience of working on a ward like that, with the angle just shifted slightly to bring out all the inherent absurdities."
In addition to regular television work, including such ground-breaking comedy as I'm Alan Partridge and Chris Langham's People Like Us (Pepperdine), The Thick Of It, Spaced and Little Britain (Scanlan) and Coming Soon alongside Julia Davis and David Walliams (both), Pepperdine is part of a comedy duo with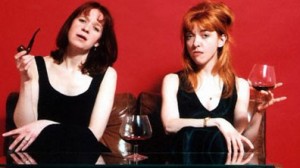 Melanie Hudson, writing and starring in BBC Radio 4's The Hudson and Pepperdine Show, while Scanlan's work in films has included Girl With A Pearl Earring, Notes On A Scandal and Stardust.
For those who haven't yet discovered the marvellous Getting On, here's how it all starts:
[tube]J5V1083kweA[/tube]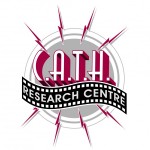 This is a Cine Sisters event, run in association with the Cinema & Television History (CATH) Research Centre at De Montfort University.
Doors open at 18.30 for a 19.30 start, and the event is expected to end at 22.30. Refreshments will be available.
Tickets & Pricing
Autumn Season 2012 ticketing applies. Advance tickets may be purchased from WeGotTickets.