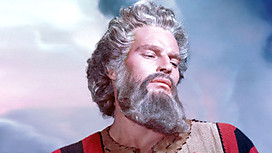 Filming for BBC Four's Timeshift documentary Epic: A Cast of Thousands! took place at the Cinema Museum in 2012.  The documentary revealed the spectacular stories behind such films as Ben-Hur,  The Ten Commandments, El Cid and Cleopatra.
We'll be screening it at the Cinema Museum in May 2013 (date to be posted soon), as part of a double bill with Dear Censor, a documentary that lifts the lid on the world of cinema censorship, made by the same production team.
Read more at the BBC website!